Washington, Mar 26 (EFE).- The United States on Monday expelled 60 Russian diplomats in response to the attempted murder of former Russian intelligence officer Sergei Skripal in the United Kingdom earlier this month, officials said.

"With these steps, the United States and our allies and partners make clear to Russia that its actions have consequences," White House press secretary Sarah Sanders said. "The United States stands ready to cooperate to build a better relationship with Russia, but this can only happen with a change in the Russian government's behavior."

The 66-year-old Skripal and his daughter, Yulia, have been hospitalized in critical condition in Salisbury, England, since being attacked with a nerve agent earlier this month.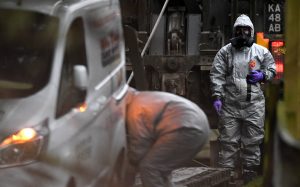 The Trump administration also ordered the closing of Russia's consulate in Seattle.

"Today, the United States began the process of expelling 12 intelligence operatives from the Russian Mission to the United Nations who have abused their privilege of residence in the United States," UN Ambassador Nikki Haley said. "After a review, we have determined that the 12 intelligence operatives engaged in espionage activities that are adverse to our national security."

The US government's move follows the expulsion last week from Britain of 23 diplomats in response to the attack on Skripal, which US and British officials suspect was carried out by the Kremlin.

The Russian government, however, has denied that it was behind the attack on the former spy.
British forensic specialists described the compound found at the scene of the attack in Salisbury as military grade Novichok nerve agent, a strain developed by the Soviet Union.

Skripal and his 33-year-old daughter were exposed to a military nerve agent before losing consciousness on a park bench in Salisbury on March 4, British officials said.

British army experts have determined that Moscow could still have the ability to produce Novichok.

Traces of the nerve agent have also been found in a Salisbury restaurant and pub, officials said.

Skripal was convicted in Russia of spying for Britain but was released in a 2010 spy swap.