Washington, Mar 28 (EFE).- President Donald Trump announced Wednesday that he will nominate his White House physician, Rear Adm. Ronny Jackson, to head the Department of Veterans Affairs (VA), replacing current VA Secretary David Shulkin, whose reputation has been tarnished because of several scandals.

"I am pleased to announce that I intend to nominate highly respected Admiral Ronny L. Jackson, MD, as the new Secretary of Veterans Affairs…." Trump said on his Twitter account.

Until the Senate can vote on confirming Jackson, a top Pentagon official – Robert Wilkie – will head the agency on an interim basis, Trump said.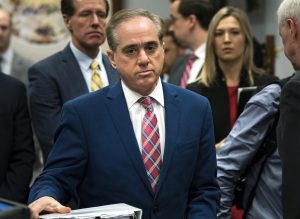 "I am thankful for Dr. David Shulkin's service to our country and to our GREAT VETERANS!" the president added in a pair of tweets.

Jackson is known for the press conference he held last January after Trump underwent a medical exam, saying that the president was in "excellent" health, "has incredibly good genes" and is fully able to carry out the duties of president.

Shulkin's departure from the VA had been rumored for weeks because he had generated headlines over his ethical conflicts last July, when he took advantage of an official trip to Europe to attend the tennis tournament at Wimbledon in the United Kingdom.

On that visit, Shulkin accepted some tickets to the tourney even though their value exceeded the limit established by the administration regarding gifts to public officials, and last September he pressured the White House so that his wife could accompany him – at government expense, although he paid for her trip when the ethical issue became public – to the Invictus Games in Toronto.

Regarding the 50-year-old Jackson, Trump said in a statement that he is "highly trained and qualified and as a service member himself, he has seen firsthand the tremendous sacrifice our veterans make and has a deep appreciation for the debt our great country owes them."

Jackson has been the White House physician for three US presidents – George W. Bush, Barack Obama and Trump – and in 2005, before beginning his tenure at the presidential residence – he was deployed to Iraq as an emergency combat physician.

To date, Wilkie was undersecretary of defense for personnel and readiness, in which capacity he worked on issues linked to the healthcare and quality of life for military families.

The ouster of Shulkin comes as one of a series of recent cabinet changes by Trump, who in March has nominated a new secretary of state (Mike Pompeo), a new CIA director (Gina Haspel) and a new national security adviser (John Bolton).