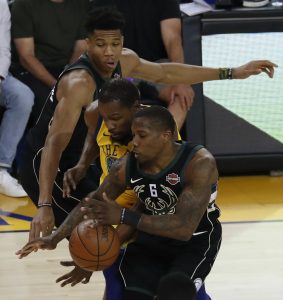 Oakland, USA, Mar 30 (EFE).- Greece's forward Giannis Antetokounmpo scored 32 points as the Milwaukee Bucks beat the Golden State Warriors 107-116 Thursday night at the Oracle Arena in Oakland.

Khris Middleton added 23 points for the Bucks as Milwaukee cemented the place in the top 8 in the East.

The Bucks beat the Warriors for just the second time in their past 10 meetings, and remain five games ahead of the Detroit Pistons in the fight for the eighth and final playoff spot available in the Eastern Conference.

Kevin Durant's return from a rib injury was cut short as the All-Star Warrior was ejected after contesting a refereeing decision as the first half drew to a close.

The Warriors (54-21) lost their third straight game and seventh in 10 outings, slipping to third place and letting the Houston Rockets clinch the number 1 seed in the West.

Quinn Cook led the scoring for the home team with 30 points from 32 minutes on court.