Mexico City, Mar 30 (EFE).- Independent candidate Margarita Zavala and conservative Ricardo Anaya officially launched their campaigns for Mexico's July 1 presidential election with rallies early Friday in this capital.

Zavala is a former first lady, while Anaya is the presidential hopeful of the For Mexico in Front coalition that links his conservative National Action Party (PAN), the center-left Party of the Democratic Revolution (PRD) and the democratic-socialist Citizens' Movement.

Two other leading candidates – Jose Antonio Meade of the ruling Institutional Revolutionary Party (PRI) and Andres Manuel Lopez Obrador of the left-wing National Regeneration Movement (MORENA) – posted messages on social media indicating they would officially kick off their respective campaigns on April 1 out of respect for Holy Week celebrations in Mexico.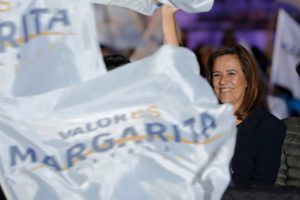 Meade, a former finance secretary and foreign affairs secretary in President Enrique Peña Nieto's Cabinet, is the standard-bearer of the Everyone for Mexico coalition, which is made up of the ruling Institutional Revolutionary Party (PRI), the center-right Ecologist Green Party of Mexico (PVEM) and the centrist New Alliance (PANAL) party.

Lopez Obrador, who narrowly lost the 2006 presidential election, a contest he says was marred by fraud, heads up the "Together We'll Make History" coalition and currently leads the polls with around 30 percent of voter preference.

That coalition also encompasses the Labor Party (PT) and the Social Encounter Party (PES).

Zavala, a conservative attorney, wife of former President Felipe Calderon and the first independent candidate in Mexico's history, launched her campaign at the Angel of Independence moment before several hundred supporters.

"I'm not a candidate who's been imposed or hand-picked," Zavala, who was accompanied by her husband and children, said at the rally.

She added that she represents "the will of citizens who have given me their love and trust. That's why I say and reiterate that I'm the people's candidate."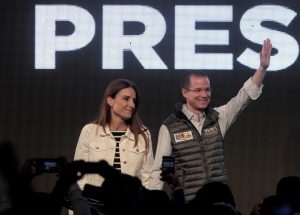 The lone female presidential candidate touted her knowledge of the country and said her rivals "represent the politics of corruption."
"We're going to win the presidency and we'll do what seems impossible: defeat the machinery of the parties," Zavala said.

Anaya's rally was held at an exhibition and convention center in Mexico City's fast-growing Santa Fe business district and drew around 1,000 young people, leaders of the For Mexico in Front parties and other candidates from his coalition competing in gubernatorial and legislative races.

He said the rally was not a traditional campaign event and that the young people in attendance would gather for 12 hours to make proposals centered on the three main pillars of his campaign: the fight against corruption, the search for solutions to eradicate inequality and the battle against violence and insecurity.

Meade said his campaign would kick off on Sunday in Merida, the capital of the southeastern state of Yucatan, while Lopez Obrador will hold his first rally that same day in Ciudad Juarez, a border city in the northern state of Chihuahua.

More than 88.3 million Mexicans are eligible to vote on July 1 to choose Peña Nieto's successor and 3,400 other federal, state and local elected positions across 30 of Mexico's 32 states.

Mexico's presidents, who are limited to a single six-year term, are chosen by plurality in a single-round of voting.