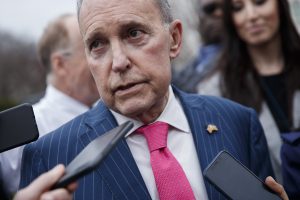 Washington, Apr 4 (EFE).- President Donald Trump's recently appointed director of the White House Economic Council, Larry Kudlow, on Wednesday downplayed the importance of the escalating trade spat with China, saying that the US imposition of tariffs on 1,300 Chinese products is just a proposal, although he acknowledged that it sends a "clear signal."

"Blame China, not President Trump," Kudlow said for the recent tariff impositions by the US administration, to which China responded by imposing its own sanctions on 106 US imports.

"Because they've been going on for many years. Trump is really the first president to fight back" against Beijing's "unfair" trade practices and theft of intellectual property, Kudlow – formerly a CNBC economic pundit – said.

Kudlow said during an interview with Fox News that the prospectively much broader tariff regime is just an initial proposal, adding that any concrete action by the administration would not occur for several months, if ever.

"What you got is the early stages of a process that will include tariffs, comments on the tariffs, then ultimate decisions and negotiations," Kudlow said. "There's already backchannel talks going on. I understand the stock market's anxiety. I get that.
But on the other hand, don't overreact. We'll see how it will all work out."

In response to China's allegedly "unfair" trade practices, the administration announced that it might impose tariffs on some 1,300 Chinese products valued at some $50 billion in yearly imports, according to a statement released on Tuesday by the Office of the US Trade Representative.

The list, which includes cutting edge technological items in the aerospace and robotics industries, is now in a 30-day public commentary period to give interested parties a chance to comment on it, make suggestions and propose changes or exemptions before the tariffs would enter into effect.

The tariffs, which come a couple of weeks after Trump announced the imposition of tariffs of 25 percent on imported steel and 10 percent on aluminum, are the latest step in the ratcheting-up of trade tensions between the world's two largest economies.

Kudlow, who recently replaced Gary Cohn in the presidential economic adviser's post after he resigned presumably over disagreements with Trump on the White House's tariff policy, during the Fox interview asked people not to "overreact" at the prospect of a trade war with China.

Washington's decision to impose the steel and aluminum tariffs moved Beijing on Wednesday to announce that it was imposing new 25-percent tariffs on a total of 106 US products.

Despite the Chinese retaliatory action, Kudlow said that the relationship between Trump and his Chinese counterpart, Xi Jinping, is "unusually good."

"Trump is putting his cards on the table, he's standing up for this country," Kudlow said. "But he's also standing up for better world trade. President Trump regards himself as a free trader. I do too. But the path to free trade, real free trade, must include tremendous reforms and stopping these illegal and unfair trade practices."

In the wake of the Chinese tariff retaliation, the US stock market opened sharply lower on Wednesday but rallied throughout the day and ended the trading session some 231 points higher than Tuesday, about 700 points off the session lows.