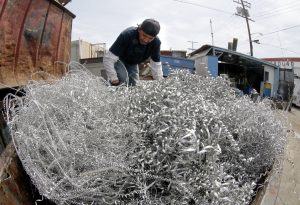 Washington, Apr 6 (EFE).- US President Donald Trump charged the World Trade Organization (WTO) with being unfair to the United States and of offering advantages to China, while at the same time admitting that his plan to boost tariffs on Chinese imports could cause some pain to the US in the short term.

"China, which is a great economic power, is considered a Developing Nation within the World Trade Organization. They therefore get tremendous perks and advantages, especially over the U.S.," Trump said on his Twitter account.

"Does anybody think this is fair? We were badly represented. The WTO is unfair to U.S.," he added.

Trump's tweets came after his announcement Thursday that he considered imposing tariffs on China to the tune of some $100 billion a year, in addition to the $50 billion already announced on hundreds of Chinese products as a counterattack against the tariffs with which the Asian giant punished Washington this week.

Asked again Friday in an interview about the consequences to the US of a dangerous escalation into a trade war, which numerous economists have warned to be a real possibility, Trump acknowledged there could be "a little pain" in the short term.

"I'm not saying there won't be a little pain," he said. "But the market has gone up 40 percent, 42 percent, so we might lose a little bit of it. But we are going to have a much stronger country when we are finished," the president said in an interview on WABC radio.

However, he insisted, "it's something we have to do."

Specifically, China presented before the WTO on Thursday a formal complaint against the United States because of the first tariffs of $50 billion annually imposed by Washington on Chinese imports.

Trump for his part denied that he is plunging the US into a trade war with China, because "that war was lost many years ago," pointing to the huge trade deficit with Beijing, and repeated his readiness to sit at the negotiating table with Chinese authorities.