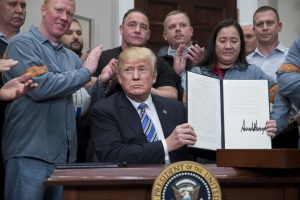 Beijing, Apr 9 (EFE).- China said Monday it was impossible to hold negotiations with the United States to prevent a trade war between the two countries because of threats by Washington in the form of tariffs.

"Under the current circumstances it is impossible to conduct negotiations on trade and the US is to blame for the trade friction," Chinese foreign ministry spokesperson Geng Shuang said in a press conference.

"The US is wielding the stake of sanctions and on the other hand it is saying that we are hoping to engage in negotiations. I don't know the true motive behind this," added Geng.

"If the US announces a new $100 billion list, we will immediately take countermeasures," Geng declared.

The spokesperson also warned that the Chinese people always delivered on their promises and that "no one should underestimate China's resolve to safeguard legitimate rights and interests."

Geng pointed out that the US stock markets had been the first to be affected by reports of a possible trade war and urged the US "not to misjudge the situation and stop its wrong measures as soon as possible."

Beijing and Washington seem to be headed for a trade war after US President Donald Trump's administration announced $50 billion in tariffs on Chinese imports to counterbalance the US trade-deficit with the country.

Last week, China announced that it would impose retaliatory tariffs of an equal amount if the US went ahead