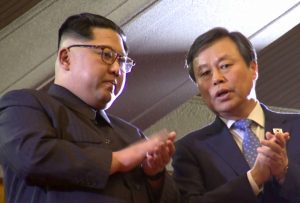 Washington DC, Apr 8 (EFE).- North Korea has informed the United States that its leader is open and ready to talk about the denuclearization of the Korean peninsula, the White House said Sunday.

A National Security Councils spokesperson told South Korean news agency Yonhap, under condition of anonymity, about the existence of a secret channel between Washington and Pyongyang to prepare for the historic summit between Kim and US President Donald Trump.

CIA Director Mike Pompeo, whom Trump appointed to be secretary of state, has been leading the talks for the summit, which is scheduled for late May or early June.

The specific date and place of the possible meeting is not yet known, the North Koreans want it to take place in Pyongyang, while the possibility of it being held in Ulaanbaatar, the capital of Mongolia, is also being considered.

Trump agreed to meet with Kim after a South Korean envoy extended the North Korean leader's invitation to the US president last month.

The White House said Trump expected Kim to take concrete "steps" before the meeting.

The possible meeting will take place after a very tense year between the two leaders, in which North Korea conducted several ballistic missile tests, to which Trump responded with harsh warnings and even called Kim "little rocket man."

Kim, in turn, had defied calls from the international community to stop the tests and referred to Trump as an "idiot".