Los Angeles, Apr 10 (EFE).- Thanks to her role in "The Decision," a series that allowed her to make a resounding comeback on television after three months entangled in controversy, Kate del Castillo is nominated for a Platino Prize, though the Mexican actress said that prizes are only a nice boost for the ego.

"I have a special affection for the Platino Prizes, but the truth is that prizes are no more than a boost for the ego. We all want to be appreciated one way or another, in whatever environment, in whatever job we do," the artist told EFE in an interview.

"And it's a beautiful motivation, as well as incredible to be one of the girls nominated, because it makes me feel important and at the same time I'm overcome with humility. It makes me vey happy," she said.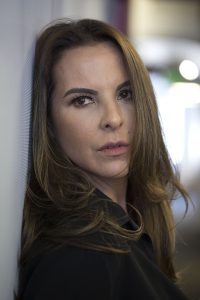 Del Castillo, candidate for Best Actress in a Television Series, will be one of the shining stars at the 5th Platino Prizes for Ibero-American Movies, whose gala will be held next April 29 on the Riviera Maya in Mexico.

The Chilean film "A Fantastic Woman" has the most nominations with nine in a competition promoted by EGEDA (Organization for Managing the Rights of Audiovisual Producers) and FIPCA (Ibero-American Federation of Cinematographic and Audiovisual Producers).

Del Castillo considers hers not a nomination for the work she did but rather "a hug for the whole crew" of "The Decision."
She also noted the power of Platinos to unite the Latin American film industry.

"I've personally realized and I've come out of my ignorance to discover all that goes on in Latin America. The wonders of the movies that exist, the actors, directors, the talent in general. Unfortunately our movies sometimes aren't seen outside our own countries. And they're incredible," she said.

The actress praised Hispanic cinema, since it tells "our stories."

"I'm seeing a movie in my language about problems I identify with, stories I identify with, human beings I identify with in a thousand ways" and it's all real, "not made of cardboard," she said.

After her controversial meeting in 2015 with drug lord Joaquin "El Chapo" Guzman, which later led her to move permanently to the United States, Del Castillo said her work has served as her refuge.

"I'm not happier anywhere than I am on the set. For me it's a privilege," she said.

The success of the first season of "The Decision" ("Ingobernable" in Spanish), a series of intrigue in which she plays Mexico's first lady, allowed Del Castillo to return with her head held high to the small screen, so much so that she has now filmed the second season of the series.

"As a story it's much solider and stronger, there's a lot of action and we keep dealing with Mexico's problems. If you see 'The Decision,' you're going to see the real Mexico: a Mexico that's powerful, beautiful and wealthy, and everything to the contrary," she said.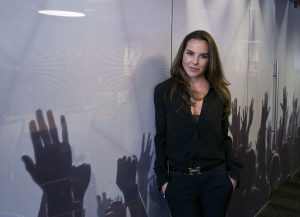 Without revealing a lot of details about the new episodes, the actress spoke of her tricks to get around not being able to shoot in Mexico.

"Previously we had to stay enclosed all the time, every door was closed in my face and I had doubles. It was terrible. But this time we went to a place that looks just like Mexico, where we can do shots in the open and I had no double – I did everything myself," she said.

Among her most immediate projects is the continuation of "La Reina del Sur," the series inspired by the Arturo Perez-Reverte novel that made her a star.

"I ran away with the role of Teresa Mendoza, suffering with her at the same time, and that got me known. Also, she's a lovely character that any actress would love to play because she has a little of everything: she's a total antihero, badly spoken, drunk, a drug trafficker, she kills people, fools around with married men…" Del Castillo said.

"She has all of that but people adore her because she never stops being the victim," she said, before noting how emotional resuming that role makes her feel.

"As an actress and as a woman, I feel I've matured…Now I feel more secure, recovered, ready for the wars," she said.
Finally, Del Castillo gave her opinion about Mexico's presidential elections and how they could affect her situation: "Let's hope the PRI (ruling party) doesn't remain in office – that would be real progress," she said.

"Unfortunately, we have the government we have, which is too bad for Mexico because it's a beautiful country. What's happened to me is that I'm losing my urge to return," she said, adding that she will go back when she feels "absolutely safe."