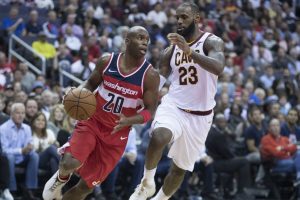 New York, USA, Apr 13 (EFE).- Washington Wizards reserve guard Jodie Meeks has been suspended for 25 games for violating the NBA/NBPA Anti-Drug Program, NBA commissioner Adam Silver's office said in an official release Friday.

The suspension means Meeks will be forced to sit out the playoffs which begin on Saturday when the Washington Wizards take on the Toronto Raptors in Game One of the best-of-seven series.

Meeks tested positive for Ipamorelin and Growth Hormone Releasing Peptide-2, according to the NBA statement.

The 30-year-old player said he would appeal the suspension, which he described as a "wrongful accusation" and denied he had taken "anything whatsoever for a performance-enhancing reason."

He will not be allowed to play pending his appeal.

Meeks has played 77 games for the Washington Wizards this season, averaging 6.3 points and 14.5 minutes a game, and is one of their main points contributors from the bench.