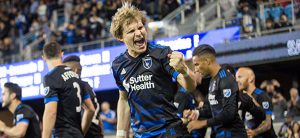 Eriksson scores in second consecutive game, first time at Avaya Stadium
SAN JOSE, Calif. – The San Jose Earthquakes earned a point at home Saturday night with a 2-2 draw against the Houston Dynamo. Earthquakes Designated Player Magnus Eriksson scored for the second consecutive week and the first time at Avaya Stadium, and midfielder Jahmir Hyka scored his first goal of the season in his debut appearance.
The Quakes took the lead in the 26th minute with Eriksson's goal and entered halftime with the advantage. Houston equalized in the 48th minute with Tomas Martinez's strike, and took the lead in the 63rd with Mauro Manotas' goal. Hyka, a second-half substitute, leveled the score in the 85th minute to earn both teams a point.
Quakes goalkeeper Andrew Tarbell recorded seven saves on the night, equaling his career high set last week in Philadelphia.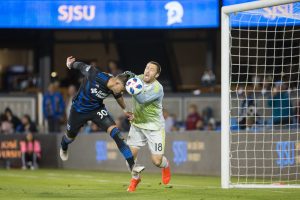 The Earthquakes utilized a starting lineup with no players 30 years of age or older for the first time since Oct. 1, 1999. There was nearly 19 years and more than 500 matches between occurrences.
The Quakes return to action on Saturday, April 21 at 4:30 p.m. PT, when they take on Orlando City SC at Orlando City Stadium. The match will be broadcast live on NBC Sports California Plus, KNBR 1050 and 1370 KZSF.
MLS Regular Season
San Jose Earthquakes 2-2 Houston Dynamo
April 14, 2018 – Avaya Stadium in San Jose, Calif.
Attendance: 17,822
Scoring Summary: SJ – Magnus Eriksson (Jackson Yueill, Danny Hoesen) 26; HOU – Tomas Martinez (unassisted) 48; HOU – Mauro Manotas (Alberth Elis, Tomas Martinez) 63; SJ – Jahmir Hyka (Quincy Amarikwa) 85.
Misconduct Summary: SJ – Francois Affolter (caution) 31; HOU – Tomas Martinez (caution) 36; HOU – Alberth Ellis (caution) 66; SJ – Chris Wondolowski (caution) 71; HOU – Adolfo Machado (caution) 87; HOU – Darwin Ceren (caution) 90+1.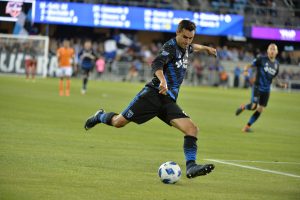 SAN JOSE EARTHQUAKES: Andrew Tarbell; Nick Lima, Francois Affolter, Yeferson Quintana, Florian Jungwirth; Anibal Godoy, Fatai Alashe (Chris Wondolowski 67), Jackson Yueill; Vako (Jahmir Hyka 67), Danny Hoesen (Quincy Amarikwa 79), Magnus Eriksson.
SHOTS: 9; SHOTS ON GOAL: 3; SAVES: 7; FOULS: 11; CORNER KICKS: 6, OFFSIDES: 3.
HOUSTON DYNAMO: Chris Seitz; Adolfo Machado, Alejandro Fuenmayor, Leonardo, Andrew Wenger; Eric Alexander, Darwin Ceren, Alberth Elis (Mac Steeves 90+4); Tomas Martinez (Arturo Alvarez 90), Romell Quioto (Boniek Garcia 76), Mauro Manotas.
SHOTS: 19; SHOTS ON GOAL: 9; SAVES: 1; FOULS: 19; CORNER KICKS: 4, OFFSIDES: 1.
SAN JOSE EARTHQUAKES HEAD COACH MIKAEL STAHRE
On being satisfied with the result:
"Of course not. I think the first half was not good but it was still 1-0 at halftime. We talked about controlling the game better, keeping possession better and also finding a balance between playing forward and in the diagonal pockets. We were very clear about these things during halftime and there was a lot of energy in the locker room. Then we conceded a poor goal after a mistake in the back line and we conceded another goal a couple minutes later. We were aware of [Houston Dynamo forward] Alberth Elis as their strong point, he is good and fast. And we were in big trouble at that point. We made some changes and were a little better in the end with a goal from Hyka."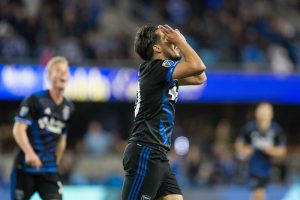 On the team's execution of the game plan in the second half:
"We conceded two goals real fast in the second half like we did against New York City. I think that in general we are a little too sloppy with the ball. There were too many individual mistakes with the ball so it is hard to get into any kind of rhythm when we're losing the ball all the time. I think we have to improve and possess the ball much better."
On not starting Chris Wondolowski:
"Of course it's always hard to select the lineup and in this game there were tactical reasons to play in a 4-3-3 and add one more midfielder."
On Jahmir Hyka's Performance:
"He had an important goal for us. He replaced Vako and he came in with energy and quality so I am happy with him."
SAN JOSE EARTHQUAKES FORWARD CHRIS WONDOLOWSKI
On coming off the bench in tonight's match:
"It's one of those things, it's a part of the game. We wanted to make a tactical change and add another guy in the midfield to try to possess it. It's something we've been trying to work on – building our possession into the final third. Coach talked to me about that. It's the role he asked me to play. Going forward I'll try and take that the best that I can."
On how he thought the tactical changes faired:
"I do like the 4-3-3. Especially with our personnel it adds a lot of lethal weapons and I think that's something that can showcase. But I think all across the field we have to be better. I think to a man, we all know we can play better a little bit sharper with our possession and our passing. To be honest, our energy as well."
On what it was like stepping on the field as a substitute:
"Definitely different. Just another way to prepare for yourself. Part of the game. I've come off the bench a couple of times for the U.S. [National] Team and so I know how to prepare myself to be ready to go. Wish I could have helped us to get three points, but I was really proud of Jahmir [Hyka] and I thought he did a great job of coming in and scoring that goal."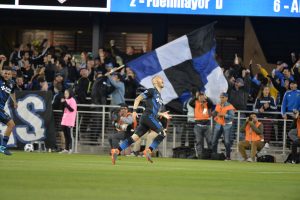 On keeping the same mentality coming off the bench:
"I love playing, but I love winning. I love to win games. Being part of a winning team, part of a winning culture. That's all I care about right now. If I play 90 minutes, one minute, zero… if we're lifting a cup at the end of the year, I'm a happy man."
SAN JOSE EARTHQUAKES MIDFIELDER JAHMIR HYKA
On the 2-2 draw:
"It was not our best game and we know that. I hope in the next games we can try to play better and to play our game. I think this what not enough."
On his celebration following the game-tying goal:
"It was for Joel [Qwiberg] actually because I promised him I'd make the celebration like that because he was in the stands. It was for him."
On scoring in his first appearance of 2018:
"Of course, it is not easy when you are on the bench all of the time. But I think as a professional, you have to keep working and wait for your chance. When the chance is there, then try your best. Thank God today I had my chance, scored the goal and helped my team."