New York, Apr 17 (EFE).- Defense attorneys representing Mexican drug lord Joaquin "El Chapo" (Shorty) Guzman have urged US authorities to conduct a psychological evaluation on their client before his trial begins on Sept. 5.

After a hearing at a federal court in New York, defense attorney Eduardo Balarezo told journalists that it is likely that the psychological examination will take place within two weeks and be carried out by an expert from Johns Hopkins University.

"We have noticed that his mental state has deteriorated, not just his memory but his affect, the way he understands things," attorney Eduardo Balarezo told reporters outside the courthouse, adding that his client's poor mental state could affect his defense.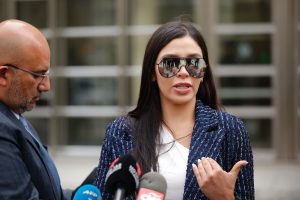 According to Balarezo, the psychological evaluation will show how his client's mental state has changed since November, when a previous examination took place, and induce US authorities to improve his client's prison conditions.

Guzman is named in a 17-count indictment alleging that, as leader of the Sinaloa Cartel, he was involved in drug trafficking, firearms violations and money laundering.

El Chapo's wife, Emma Coronel Aispuro, also urged US authorities to carry out the psychological evaluation, telling reporters that her main concern was Guzman's health.

"My main worry is his health because I know he's in a very bad psychological state. He feels very bad, the lawyers have told me," Aispuro said.

"How is he going to get to trial if his health is not good?" she added.