By Lina Broydo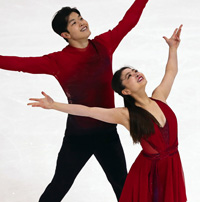 Stars on Ice in San Jose  
May 13 at 4 p.m.
Missed the 2018 Winter Olympic Games in Korea? Don't despair! The champions on ice are on their way to San Jose to shine and awe spectators at the SAP Center.
Stars on Ice Tour will feature 2018 Olympic Medalists and World Champions highlighted by performances of Nathan Chen, Maria and Alex Shibutani, Ashley Wagner, Adam Rippon, Mirai Nagasu, Karen Chen, Vincent Zhou, Meryl Davis & Charlie White and Bradie Tennell.
Stars on Ice continues to be a pioneer in figure skating by offering fans the rare opportunity to witness some of the world's most creative and cherished champions performing together in both individual and ensemble routines.
Founded and produced by Olympic Gold Medalist Scott Hamilton, Stars on Ice is one of the premier family entertainment events in the U.S., and the only figure skating Tour in America, that has annually brought fans the greatest performances and competitors from around the globe. Don't miss this amazing show.
Tickets and Information
Prices range from $12 to $85
1-800-745-3000
Group discounts are available for parties of 10 or more by calling 408-977-4715.
SAP Center
525 West Santa Clara Street in San Jose
Photos courtesy of Stars on Ice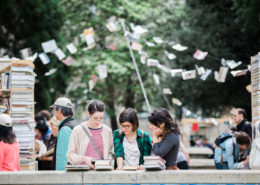 Spring into Books in Berkeley
April 28 & 29;
Indoor Session:10 a.m. to 6 p.m.
Free Outdoor Fair: 11 a.m. to 6 p.m.
Meet, chat and get inspired by the 250 authors at the 4th Annual Bay Area Book Festival in downtown Berkeley. Robert Reich, Alice Waters, Rebecca Solnit, Pico Iyer, Dave Eggers are some of the featured writers scheduled to appear.
This year's festival features eight films based on literature with Berkeley Art Museum and Pacific Film Archive and includes screenings and introductions from renowned authors and filmmakers.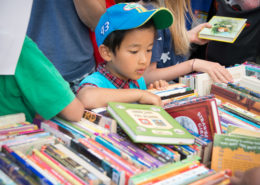 Bring the kids to interact with their favorite children's book authors such as Katherine Applegate ("One and Only Ivan").
A free outdoor fair and hands-on activities, carnival and a personal appearance by Grammy nominees Alphabet Rockets will keep all the attendees entertained and quite busy.
Tickets and Information
Priority Tickets: $10; General Passes: $15
baybookfest.org
Downtown Berkeley
Photos courtesy of the Bay Area Book Festival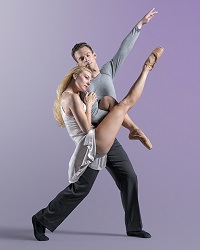 Smuin Ballet Pirouettes Throughout the Bay Area
Through April 29 in San Francisco
May 11 &12 in Walnut Creek
May 24-27 in Mountain View
June 1 & 2 in Carmel
Master dance maker Val Caniparoli inaugurates and creates Smuin Dance Series 02 for the devotees of this remarkable dance and ballet company.
The program starts with playful "If I Were a Sushi Roll" and continues with Helen Pickett's romantic and passionate "Oasis" set to an original score by Emmy award-winning House of Cards composer Jeff Beal. Choreographer-in-Residence Amy Seiwert's visually stunning Falling Up offers an in-depth exploration strength and trust between partners.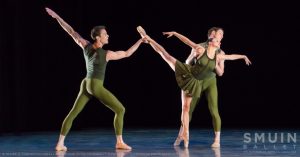 Set to a lush piano score by Johannes Brahms, it is a Seiwert's signature sculptural movements enhancing the energy of contemporary ballet. Should be mesmerizing as Smuin's ballets are. Check the website for the locations and the times of the performances.
Tickets and Information
Prices range from $32 to $79
415-214-8198
smuinballet.org
Photos courtesy of Smuin Ballet
"In The Heights" at Hammer Theatre in San Jose
April 27 & 28 at 7 p.m.
May 2 at 1 a.m.; May 3, 4 ans 5 at 7 p.m.;  May 6 at 1 p.m.
The San Jose State University (SJSU) Music and Dance faculty students collaborate with San Jose native and vocal consultant Jesse Sanchez known to the audiences from his performances in the national tour of Hamilton, to bring In the Heights, the Tony Award Winning musical and Broadway hit by Lin-Manuel Miranda of the Hamilton fame.
Patrons can enjoy the original Broadway set converted for this special production at Hammer. Should be spectacular and not to be missed.
Tickets and Information
Prices start at $20
408-924-8501
www.hammertheatre@SJSU.edu
Hammer Theatre
101 Paseo de San Antonio in San Jose
Photo courtesy of SJSU