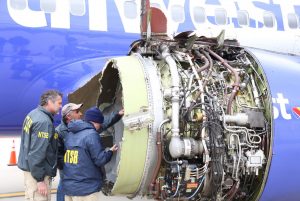 Washington, Apr 17 (EFE).- The National Transportation Safety Board reported Tuesday that one passenger died on board a Southwest Airlines jet that was forced to make an emergency landing in Philadelphia after an engine blew up in mid-flight.

The NTSB, which is tasked with investigating the accident, provided no further details about the identity of the victim, although witnesses on board the aircraft told NBC that a woman was seriously injured when she was partially sucked out of a passenger cabin window when a piece of the exploding engine broke that window and caused the plane to depressurize.

The plane, which landed at 11:30 am, allegedly lost cabin pressure after a piece of the engine shattered the window near the woman's seat. Other passengers had to grab her to keep her from being completely sucked out of the plane, but she sustained injuries to her arms and upper body.

It was not clear whether the injured woman was the person who died.

NTSB president Robert Sumwalt confirmed the death of one passenger and told a press conference that investigators had classified the incident as a "mechanical failure."

He also said that the death of the passenger is the first fatality to occur on board a US commercial airline since 2009.

The Boeing 737-700 was en route from New York's La Guardia Airport to Dallas when the incident occurred, diverting to Philadelphia after the engine blew.

Oxygen masks deployed instantly in the cabin and passengers said they tried to plug the broken window with life vests and other objects, but these objects were sucked out too, while other people with medical knowledge attended to the injured woman and other affected people.

Shortly before the NTSB announcement, Philadelphia fire chief Adam Thiel said that one passenger was taken to a local hospital with serious injuries and 12 others were evaluated by paramedics at the airport with seven of them treated for minor injuries there.