Miami, Apr 17 (EFE).- President Donald Trump said Tuesday that the two Koreas have his "blessing" to reach a peace agreement putting an end to the state of war that technically has existed between them since the 1953 end of the Korean War, which terminated with a cease-fire that has never been replaced with a formal peace treaty.

Trump made his remark before meeting with Japanese Prime Minister Shinzo Abe at the president's Mar-a-Lago resort in Palm Beach, Florida, and shortly before the planned April 27 meeting between North Korean leader Kim Jong-un and South Korean President Moon Jae-in.

"They do have my blessing to discuss the end of the war," said Trump, who welcomed Abe to Mar-a-Lago on Tuesday.

The president said he will meet with Kim himself in early June or perhaps even before that, assuming that all goes well with ongoing plans.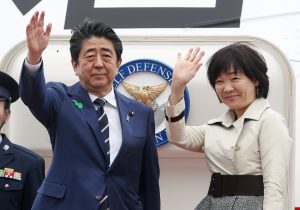 Trump, in Abe's presence, publicly stated on Tuesday that the US government has had direct contact at extremely high levels with the North Korean regime.

The US leader is scheduled to discuss the dialogue with North Korea at his meeting with Abe, whom he said on Twitter earlier in the day he considers to be "a truly fine gentleman."

The activism on the part of Seoul and Beijing in maintaining contacts with North Korea before the summits has left Tokyo in the background, with the Abe government expressing skepticism with regard to any fruitful dialogue with Pyongyang.

Along those lines, the Japanese leader will ask Trump to broach with Kim the matter of Japanese citizens kidnapped by Pyongyang and also of its ceasing all missile testing.

Tokyo wants maximum pressure to be maintained on North Korea to completely destroy its nuclear and ballistic arsenal, Abe said before departing for the US.

Also to be discussed at Abe and Trump's Mar-a-Lago meeting, will be the White House intention to impose tariffs on steel and aluminum imports from several nations, including Japan.

US officials said on Tuesday, however, that the Trump administration is considering the possibility of providing concessions to Japan and including it among the countries exempt from those tariffs.