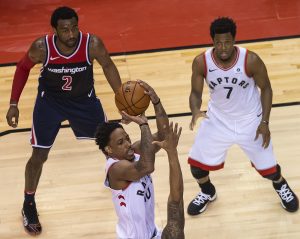 Toronto, Canada, Apr 17 (EFE).- DeMar DeRozan scored 37 points as he led the Toronto Raptors on Tuesday to victory over the Washington Wizards 130-119 in game two of the first round the Eastern Conference playoffs.

On a record breaking night for Toronto, DeRozan equalled his best ever points haul in a playoff game as his team took a 2-0 series lead, a franchise first.

Jonas Valanciunas scored a double-double of 19 points and 14 rebounds, while C.J. Miles added 18 points.
Kyle Lowry also had a double-double, scoring 13 points with 12 assists.

Serge Ibaka put up 10 points in 31 minutes of action, hitting 4 of 11 field goals, including 1 of 3 three-pointers.

The Wizards were led guard John Wall, who scored 29 points, while Mike Scott and Kelly Oubre added 20 and 14 points respectively.

Game three on Friday sees the best-of-seven series shift to Washington DC.