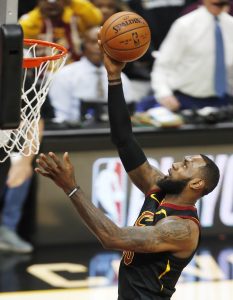 Cleveland, USA, Apr 18 (EFE).- Cleveland Cavaliers' LeBron James managed a double-double with 46 points and 12 rebounds in a 100-97 victory over the Indiana Pacers on Wednesday.

With this victory, the Cavaliers tied 1-1 in the Eastern Conference series.

During his 40 minutes on the court, James led the attack, scored the first 16 points of the game and reached 29 at halftime.

Kevin Love added another 15 points but later injured his left hand – the same hand he broke at the beginning of the season – with only three minutes and 43 seconds left.

Love's condition could affect the team in the rest of this series or possibly the rest of the season.

Kyle Korver added 12 points for the Cavaliers while Spanish point guard Jose Manuel Calderon contributed five points in 13 minutes by hitting two of four field goals, including a three-pointer.

The leading scorers of the Pacers were shooting guard Victor Oladipo with 22 points, Myles Turner with 18, and Darren Collison with 16.

The third match of the series will be played on Friday night at the Indiana Pacers' stadium.