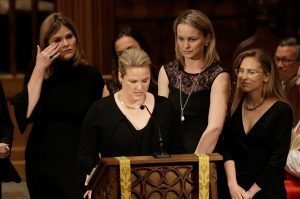 Houston, Apr 21 (EFE).- Mourners paid their final respects to a former first lady of the United States, Barbara Bush, at her funeral service Saturday in Houston, Texas.

Bush, who was the wife of the 41st US president, George H.W. Bush, and the mother of the 43rd president, George W. Bush, died Tuesday at the age of 92 in that Texas city.

Among those in attendance at St Martin's Episcopal Church were the two Bush ex-presidents; current first lady Melania Trump; former President Barack Obama and his wife, Michelle; and former President Bill Clinton and his wife, Hillary.

Current US President Donald Trump declined an invitation "to avoid disruptions due to added security, and out of respect for the Bush Family," the White House said in a statement.

"Heading to the Southern White House to watch the Funeral Service of Barbara Bush. First Lady Melania has arrived in Houston to pay our respects. Will be a beautiful day!" Trump wrote Saturday on Twitter.
One of Barbara Bush's sons, former Florida Gov. Jeb Bush, delivered a eulogy at the funeral that was tinged with humor.

"As I stand here today to share a few words about my mom, I feel her looming presence behind me. And I know exactly what she's thinking right now. Jeb, keep it short. Don't drag this out. People have already heard enough remarks already. And, most of all, don't get weepy," he joked.

"Remember, I spent decades laughing and living a life with these people. And that is true. Barbara Bush filled our lives with laughter and joy, and in the case of her family she was our teacher and role model on how to live a life of purpose and meaning," Jeb Bush said.