Washington DC, Apr 21 (EFE).- The president of the United States said on Saturday that the former director of the Federal Bureau of Investigation had broken the law when he leaked classified documents to the press.

Donald Trump fired James Comey in May of last year. In his dismissal letter, Trump said it was because he agreed with a Department of Justice assessment that Comey was unable to effectively lead the FBI.

"James Comey's Memos are Classified, I did not Declassify them. They belong to our Government! Therefore, he broke the law!", Trump wrote on his Twitter account, two days after the DoJ had delivered the memos to members of three separate House committees.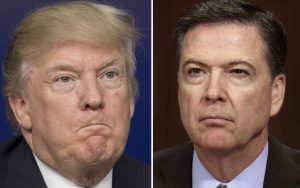 The seven memos in question, which purportedly detail conversations between Trump and Comey, are being treated as crucial pieces of evidence in the investigation – set up in the wake of Comey's firing and led by special counsel Robert Mueller – into allegations that the Russian government colluded with the Trump campaign during the 2016 presidential elections.

Comey leaked the memos to the New York Times to reveal what he said were Trump's attempts to block the investigation.

Trump has repeatedly dismissed the former FBI director's allegations, and on Saturday said that Comey had "totally made up many of the things he said I said, and he is already a proven liar and leaker".

The memos, which were written before Comey was sacked in May, allege that Trump called the Russia investigation a "cloud" over his administration, and that the president asked what Comey "could do to lift the cloud".

They also refer to Trump's denials of a salacious incident with prostitutes in Moscow in 2013, which was included in a dossier by former British spy Christopher Steele.

Comey's memos said that Trump "went on at great length, explaining that he has nothing to do with Russia … was not involved with hookers in Russia … is bringing a lawsuit against Steele".

Trump's tweet is the latest in a war of words triggered by the release last week of James Comey's book "A Higher Loyalty: Truth, Lies and Leadership", in which Comey said Trump was "morally unfit" to serve as president.