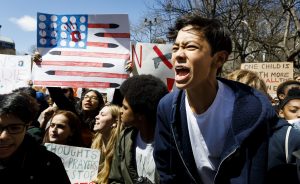 Denver, Apr 20 (EFE).- Students walked out from more than 2,500 schools across the United States on Friday to demand stricter gun control measures on the day of the 19th anniversary of the Columbine High School shooting.

The student protests were organized not only to honor the 13 Columbine victims and those killed in other school massacres since 1999, but also to encourage young people to register to vote in November's US midterm elections and attempt to pressure lawmakers to commit to enacting gun control legislation.

The students, who have received the support of 200 organizations, celebrities and even some school authorities, left class at 10 am in their respective time zones to participate in the protest.

The students took part in a 13-second moment of silence in honor of the Columbine victims and then participated in a sit-in for 19 minutes, symbolizing the number of years since the Columbine massacre took place.

At some schools, the sit-in lasted 17 minutes, representing the number of people killed during the last large school shooting, which took place on Feb. 14 at Marjory Stoneman Douglas High School in Parkland, Florida.

After the demonstration, many students participated in voting registration drives.

In Denver, students marched to the state capitol, where they handed leaflets to lawmakers warning that young people will vote them out of office if they don't support stricter gun control.

To avoid any incidents, some schools suspended classes while others increased the number of security personnel.
Some schools, however, warned students that they would be disciplined if they left class without permission.

In response, actor Robert DeNiro drafted an "excuse letter" so that students could explain to school administrators why they participated in the walkouts.

Some of the reasons noted by DeNiro include honoring the memory of the Columbine victims, bringing awareness of the tragic consequences of gun violence and exercising good citizenship.

On Thursday, 60 Parkland students met in Colorado with Columbine survivors, their families and local leaders.