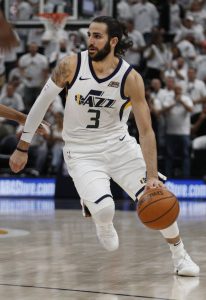 Salt Lake City, United States, Apr 23 (EFE).- Young shooting guard Donovan Mitchell scored 33 points and led the Utah Jazz attack on Monday to beat the Oklahoma City Thunder 113-96 in the fourth match of the first round playoffs of the Western Conference.

Playing at home, Utah registered their third consecutive victory in the best-of-seven series and need just one more win to reach the semifinals.

Mitchell scored three three-pointers and added seven rebounds and four assists, while five other Utah players also scored in double digits.

Australian forward Joe Ingles was the second highest scorer with 20 points, including five three-pointers, while French center Rudy Gobert had a double-double of 16 points and 10 rebounds and made a block.

Power forward Derrick Favors and Spanish point guard Ricky Rubio had 13 points each.

Forward Paul George led the scoring for the Thunder with 32 points, while Russell Westbrook scored a double-double of 23 points and 14 rebounds and made three assists.

Oklahoma forward Carmelo Anthony could not find his form and scored just 11 points, missing 13 of his 18 field throw attempts.

The game saw a lot of physical play with both teams committing two technical fouls before halftime, and Utah forward Jae Crowder was ejected with a technical foul in the fourth quarter.

The Jazz head to the Chesapeake Energy Arena in Oklahoma City for their next game with the Thunder, scheduled for Wednesday.