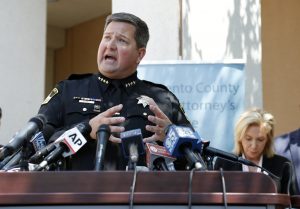 Los Angeles, Apr 25 (EFE).- California authorities arrested a man who is believed to have committed 12 killings and at least 45 rapes across the state in the 1970s and '80s, the Sacramento County Sheriff's office said Wednesday.

Joseph James DeAngelo Jr., 72, who was living in Sacramento's north side, is the person suspected to have been the infamous Golden State Killer, also known as the Original Night Stalker or the East Area Rapist.

The serial killer committed his crimes between 1976 and 1986 throughout California, including in the cities of Sacramento, Oakland and Santa Barbara, as well as in Orange County.

According to FBI information, his victims ranged in age from 13 to 41.

In addition to the 12 murders and 45 rapes, it is believed that DeAngelo also robbed more than 120 homes.

DeAngelo was a California police officer in the 1970s, which means that he may have committed some of his crimes while he was on the force.

The FBI had offered a $50,000 reward for information leading to the arrest and conviction of the killer and created a nationwide multimedia campaign in 2016 to try to resolve the long-overdue case.