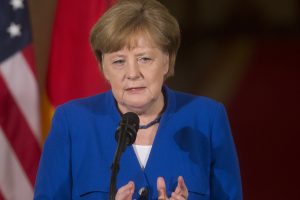 Washington, Apr 27 (EFE).- German Chancellor Angela Merkel said here Friday that the Iran nuclear deal signed in 2015 was a first step but that it "is not sufficient," adding that she was willing to work with US President Donald Trump to improve the deal to "contain" Iranian influence in the region.

"This agreement is anything but perfect … It is one piece of the mosaic, one building block on which we can build up the structure," Merkel said during a joint press conference with Trump at the White House.

Merkel characterized the agreement, signed three years ago by Iran, the United States, Germany, France, China, Russia and the United Kingdom, as a "first step that has contributed to slowing down" Iran's nuclear activities.

"But we also think, from a German perspective, that this is not sufficient in order to see Iranian ambitions curbed and contained," Merkel added.

The chancellor's position is similar to what French President Emmanuel Macron expressed on Tuesday during his state visit in Washington, although Merkel did not specify if she supports her European colleague's proposal of negotiating a new, broader, agreement with Tehran.

In January, Trump threatened to withdraw from the Iran deal if his European counterparts did not negotiate a new, parallel, agreement with the US to correct the "defects" of the original deal.

Tump has said he would announce his decision on whether to withdraw or not from the agreement by May 12, which is the day he must inform the US Congress on Iran's compliance with the deal and decide if he will continue to waive the nuclear sanctions against that Middle Eastern nation.

Trump gave no clues as to what his final decision will be, saying that he had talked to Merkel about how to "ensure that this murderous regime does not even get close to a nuclear weapon and that Iran ends its proliferation of dangerous missiles and its support for terrorism."