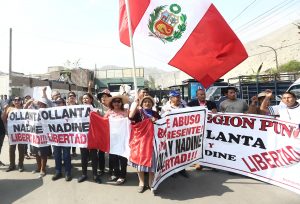 Lima, Apr 26 (EFE).- Peru's Constitutional Tribunal on Thursday ordered former President Ollanta Humala and his wife released from pre-trial detention while authorities investigate charges that they accepted illegal campaign contributions.
Humala, who governed Peru from 2011-2016, and the former first lady have been behind bars since July 2017

"The Constitutional Tribunal has agreed by a majority decision to accept the habeas corpus motion presented by the defense for former president of the republic Ollanta Humala and his wife, Nadine Heredia," chief judge Ernesto Blume told a press conference in Lima.

He said that the couple's legal status will return to what it was prior to their arrest, when they were barred from leaving the country and required to report to authorities on a regular basis.

Thursday's order has "immediate" effect, Blume said.

Prosecutor accuse Humala and Heredia, the leader of the Nationalist Party, of receiving illegal campaign contributions from Brazilian construction giant Odebrecht.

Many legal analysts noted at the time of their imprisonment that while flight risk is usually the reason for imposing pre-trial detention, the possibility that Humala and Heredia would seek to escape justice was close to zero.

Heredia, who had left Peru for Switzerland to accept a senior position with a UN agency, resigned from the job and came back when ordered to do so by a judge.