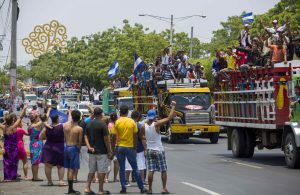 Managua, Apr 28 (EFE).- The death toll in protests against the Nicaraguan government of Daniel Ortega has risen to 42, while it has been confirmed that many young people feel forced to move away from their homes, the Nicaraguan Center of Human Rights (CENIDH) reported Saturday.

"We have confirmed 42 dead and have not yet determined the status of three others," CENIDH member Meyling Sierra told EFE.

Though other defenders of human rights have reported up to 63 deaths, based on official and non-official lists, CENIDH figures are more conservative since they include none whose bodies have not been identified by their families or otherwise verified.

CENIDH warns, however that even its own number of 48 has been made more uncertain due to the "forced relocation," considered a grave violation of human rights, since those who feel they are in danger must leave the city or even the country.

"There is a forced relocation, above all of young people who took part in the demonstration – they're afraid of reprisals and won't risk filing a complaint," Sierra said.

The CENIDH member said that even the families of those young people have been forced into hiding far from their homes.

The crisis Nicaragua is going through has lasted 11 days, during which time Ortega has witnessed a massive reaction against his government, particularly after the ruling party's shock troopers, directed by the Sandinista Youth and the National Police, used violence to repress the protesters.

Nicaraguans demand Ortega's resignation and that of his wife, Vice President Rosario Murillo, considering them repressive and corrupt violators of human rights, civil rights and the freedom of the people.

Though the possibility exists of a dialogue between the government and the private sector to overcome the crisis, with the mediation of the Catholic Church, the people do not feel identified with the process.

The Nicaraguan clergy this Saturday called for a "pilgrimage for the love of Nicaragua," at which thousands of people would ask for Ortega's resignation from the presidency.