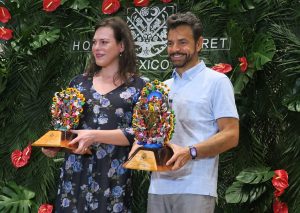 Playa del Carmen, Mexico, Apr 28 (EFE).- Mexican actor Eugenio Derbez said he was attempting to help change Hollywood movies' depiction of Latinos, which is why he has started working as a producer.

Derbez explained this move here on Friday after receiving the Xcaret award along with Chilean actress Daniela Vega as part of the 5th Platino Ibero-American Film Awards pre-show events.

Derbez said that he enjoys acting more than production, although being a producer gave him "power."

"Latinos in Hollywood are always depicted" as drug traffickers, gang members or, in the best-case scenario, as gardeners, he said.

The actor added that he was always being offered the same types of roles, which is why he decided to become a producer.

"I will always try to contribute in some small way to change the depiction of Latinos in Hollywood," Derbez said, who will host the Platino Awards ceremony being held in the Riviera Maya on Sunday.

Derbez also praised Ibero-American film, jokingly saying that "we make up for the lack of big budgets with creativity."

Daniela Vega also celebrated Ibero-American culture, calling for the need to "mix life's colors" and create new ones.

"We can become those colors," Vega added, who was nominated as best actress in this year's Platino Awards for her role as Marina in the Chilean film "Una mujer fantastica" ("A fantastic woman"), which addresses transgender inequality and discrimination.

The film, Vega explained, raises questions about how we can expand our empathy, how "we can love each other more."

"A fantastic woman" received a total of nine nominations at the Platino Awards, including best Ibero-American fiction, best director and best script.