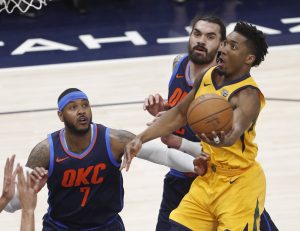 Salt Lake City, USA, Apr 27 (EFE).- Rookie Donovan Mitchell scored 38 points, including 22 in the third quarter alone, to lead the Utah Jazz to a 96-91 victory in Game 6 of their Western Conference first round playoff against the Oklahoma City Thunder on Friday night.

The win means Utah wraps up the best-of-seven series with a game to spare before the semifinals, where they will face the top-seeded Houston Rockets.

Mitchell was 14 of 26 from the field, with five out of eight three pointers, and five of five from the line, including two in the final seconds to seal the game.

The rookie joins the esteemed ranks of NBA legends Wilt Chamberlain and Kareem Abdul Jabbar as the three players with the most points from their first six playoff games.

Mitchell also matched Abdul Jabbar as the only rookies in the last 50 years to score at least 20 points through their six first career postseason matches.

This season's revelation was not a solo performer, as the Jazz had four other players score in double figures, with Derrick Favors putting up 13, Joe Ingles and Rudy Gobert adding 12 each.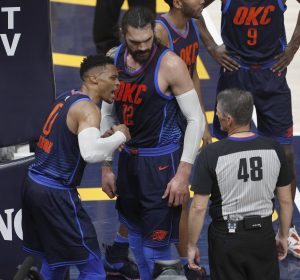 The French player also grabbed 13 rebounds and made three blocks.

Utah's evening was soured slightly with the withdrawal of Ricky Rubio due to a hamstring strain. The Spaniard looks set to miss Game 1 of the semi-final against Houston on Sunday.

The Thunder relied again on Westbrook, who put up a huge 46 points with 10 rebounds and five assists, but he crucially missed two three-point opportunities in the final minutes to take the game into overtime.

Steven Adams did put up a double-double of 19 points and 16 rebounds, but OKC will be hugely disappointed that no-one else stepped up to assist Westbrook, with veteran Paul George only bringing five points after shooting a dismal two of 16 from the field.

Carmelo Anthony was similarly ineffective, scoring six points and grabbing three rebounds.