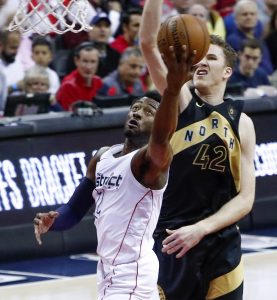 Washington DC, Apr 27 (EFE).- Kyle Lowry scored 24 points as the Toronto Raptors wrapped up their Eastern Conference first round playoff against the Washington Wizards with a game to spare at the Capital One Arena on Friday night.

Having secured a 4-2 series victory, the top seed in the East will face the Indiana Pacers or the Cleveland Cavaliers, who are tied at 3-3, with Game 7 in Cleveland on Sunday.

Lowry added six rebounds and six assists to his points tally, while four of his teammates also scored in double figures.
DeMar DeRozan had 16 points, and Jonas Valanciunas put up a double-double of 14 points and 12 rebounds, as well as two blocks.

Serge Ibaka endured a frustrating game, scoring just six points in 23 minutes on the court, grabbing three rebounds in the process.

Toronto built their victory on taking better care of the ball, turning it over just six times compared to an average of 18.5 during Games 3 and 4.

The game was evenly matched until the fourth quarter, when the Raptors outscored the Wizards 29-14 thanks to Lowry, DeRozan and their bench.

Washington were led by Bradley Beal with 32 points, while Markieff Morris had 12 points and 15 rebounds.

John Wall managed 23 points and eight assists in his 40 minutes of action, but it was on defense that the Wizards suffered, especially in the fourth quarter.

While the Wizards turn to the draft and the offseason, the Raptors move on to the Conference semi finals.