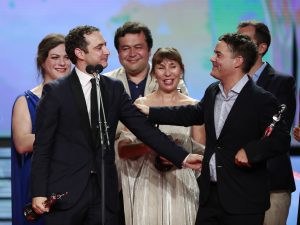 Playa del Carmen, Mexico, Apr 29 (EFE).- The Chilean film "A Fantastic Woman," directed by Sebastian Lelio, won Best Film on Sunday at the fifth Platino Awards held on the Riviera Maya.

The film also won Best Director for Lelio, Best Female Performance by Daniela Vega, as well as the Best Script and Best Male Performance.

The film won five awards of the nine it was nominated for – the most awarded of the evening.
Argentina's "Zama," which had received eight nominations and was the main rival of the Chilean film, had to settle for the technical awards of Best Art Direction, Best Cinematography and Best Sound.

The Oscar-winning "A Fantastic Woman" is a based on discrimination and prejudice against transgender people

The film's producer, Juan de Dios Larrain, said while accepting the award that after this film we all have an opinion about what gender identity means and cried out: "Long live Chile!"

Shortly before, when Lelio was awarded Best Director, he said new awareness can be created through cinema, which has a great power and particular responsibility.

The fifth Platino Awards is held at Playa del Carmen's Grand Tlachco Theater on the Riviera Maya.

The awards are promoted by the Audio-Visual Producers' Rights Management Entity, together with the Ibero-American Federation of Cinematographic and Audio-visual Producers.