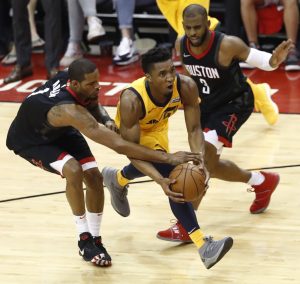 Houston, USA, Apr 29 (EFE).- Houston Rockets star guard James Harden remained inspired with his offensive play and with 41 points led the attack of his team to beat the Utah Jazz 110-96 in the first match of the Western Conference semifinals best of seven series.

The second game will be played on May 2, on the same stage at the Houston Toyota Center, where the Rockets will start with a 1-0 lead.

Harden, who played 37 minutes and scored 12 of 26 field shots, including 7 of 11 three pointers, as well as capturing eight rebounds and seven assists, combined with Chris Paul to ensure the Rockets' victory at half-time when the Houston team already had a 25-point lead (64-39).

Paul, who contributed 17 points and six assists at the end of the first half, had combined with Paul to score 34 decisive points between them.

The Jazz, who played without Spanish point guard Ricky Rubio, who had a hamstring injury in his left leg, never had a response to the Rockets' inspirational game, who also had the advantage of greater rest and physical power by not having to play since last Apr. 25 when they eliminated the Minnesota Timberwolves.

The Jazz had to play the sixth game against the Oklahoma City Thunder on Apr. 27, and with the flight hours from Utah, they had little time to rest and recover from their efforts.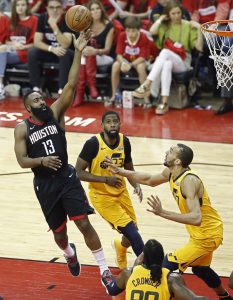 The victory was the fourth consecutive the Rockets achieved in the playoffs with 10 points or more and the fifth in a row against the Jazz with an average of 16.8 points difference in the final score.

The Rockets, who had their biggest lead in 27 points, also received the support of their Swiss center Clint Capela who achieved a double-double of 16 points and 12 rebounds.

Forward PJ Tucker reached the 15 points to complete the list of the four players who had two-digit numbers.

As a team, the Rockets achieved 45 (37-82) percent success in the field and 53 (17-32) in the three pointers, compared to 50 (38-76) and 32 (7-22), respectively, of the Jazz.

Rubio's absence from the jazz team was too noticeable when it came to moving the ball and the Jazz's 18 losses to 14 of the Rockets didn't help them either.

Rubio told Efe that he doesn't know when he will be able to play again, but he wants to do it as soon as possible. "I don't think I can make it to the second game and then we'll see. Even if I have to force my presence on the pitch, my desire is to go out and help the team.