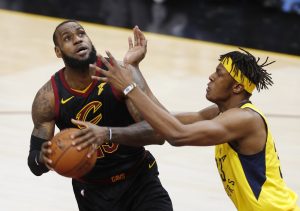 Cleveland, USA, Apr 29 (EFE).- Small forward LeBron James on Sunday took his team Cleveland Cavaliers to a 105-101 victory by scoring 45 points and helping to achieve their fourth and final victory over the Indiana Pacers in the best of seven series.

James contributed 45 points which would eventually lead to the 105-101 triumph over the Cavaliers at the end of the first-round playoff series of the Eastern Conference.

The Cavaliers will face the Toronto Raptors from May 1 onwards in the semifinals, with a home-field advantage for the Canadian team.

James made 16 of 25 field shots, including two three-pointers and 11 of 15 shots at the free-throw line, in addition to eight rebounds and seven assists.

However, in the third quarter, James checked out of the game and headed back to the locker room to receive treatment for a minor injury.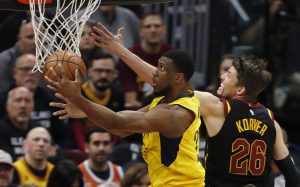 Center Tristan Thompson then took the lead and scored a double-double of 15 points and 10 rebounds.

Thompson had an immediate impact on the Cavaliers' game by contributing six points and seven rebounds, which, together with the 26 points scored earlier by James, allowed the Cleveland team to go into halftime with a 11-point lead (54-43) over their Indiana rivals.

Having been absent for three days due to injury, point guard George Hill contributed 11 points in the 19 minutes he played in the second half.

For the Pacers, shooting guard Victor Oladipo became the team's best scorer with a double-double of 30 points, 12 defensive rebounds and six assists, while center Darren Collison came in the second place, scoring 23 points.

The two Pacers held their team in the game by hitting four points in the last minute, but James managed to counterattack as he received the ball from Korver with 30 seconds before the game ended.

Oladipo scored a three-point shot in the last ten seconds, but then James also made a three-point right before the game ended, which sealed the Cavaliers' decisive victory.