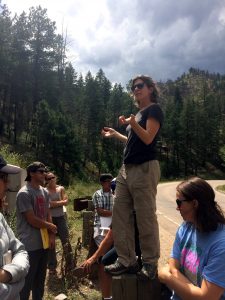 Denver, Apr 29 (EFE).- An application for mobile phones inspired by Pokemon Go has become a very useful tool for volunteers who "update maps" about the movement of water via streams.

"Stream Tracker" allows the user, upon arriving at a stream, to answer questions about their location, if water is flowing in the watercourse or if it's dry or frozen, information that is compiled by the Ecosystem Science and Sustainability Department at Colorado State University.

The app follows the framework of the Pokemon Go augmented reality game in which players move to different physical locations to try and capture the popular virtual Pokemon creatures, and it has received development funding from NASA along with CitSci (Citizen Science), a group created in 2007 to foster public participation in science.

"How can we develop better predictors about the movement of water if we don't even know where the streams are?" Stephanie Kampf, a hydrologist and CSU professor, asked in remarks to EFE.

"While many people go from place to place with their mobile phones collecting Pokemons, we're trying to understand streams. So, we think it would be a great idea for all those people to collect useful data," she said.

Initially, 64 Colorado volunteers began monitoring 337 streams in that state, collecting more than 4,500 measurements and making 2,150 observations.

Thanks to CitSci, the project expanded to 483 sites around the world, with more than 750,000 data collection points worldwide.

According to Kampf, the data-collection process has allowed scientists to create better maps, including even small streams that naturally flow intermittently, which are part of a "healthy ecosystem."

Kampf added that no special training or technological knowledge is required to make the observations or take the measurements, just the ability to get to the monitoring sites and use the CitSci Website to include the requested data.