October 26, 1994
By Yolanda Reynolds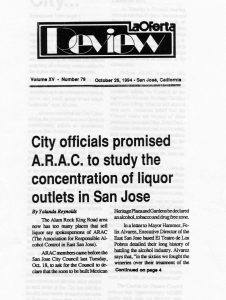 The Alum Rock King Road area now has too many places that sell liquor say spokespersons of ARAC (The Association for Responsible Alcohol Control in East San Jose.
ARAC members came before the San Jose City Council last Tuesday, Oct.18, to ask for the Council to declare that the soon to be built Mexican Heritage Plaza and Gardens be declared an alcohol, tobacco and drug free zone.
In a letter to Mayor Hammer, Felix Alvarez, Executive Director of the East San José based El Teatro de los Pobres detailed their long history of battling the alcohol industry. Alvarez says that, "in the sixties we fought the wineries over their treatment of the farmworkers. In the seventies and
eighties we were involved in Chale con Coors… for the racist practices of the Coors Brewing Company." They are now trying to curtail the special targeting of minority communities by the liquor and tobacco industries.
"Now in the 80's aid 90's we're convinced that alcohol availability is contributing to an increase in violence, crime, and youth gangs in our neighborhoods" says Alvarez.
Alvarez reminded the City Council that the planned Plaza and Gardens immediately adjoin an elementary school, San Antonio.
Mary Contreras, a member of ARAC, presented the City Council with the results of research that the membership has done regarding the alcohol outlets within a one mile radius of the planned community center development (Mexican Heritage Plaza and Gardens). Within that radius, ARAC leaders say there are 125 locations that sell liquor. Also within that one mile radius are twelve schools, eight of which are elementary schools and five churches.
The City has an ordinance that forbids the sale of alcohol within five hundred feet of a school or a church, a law that Alum Rock Superintendent Pedro Perales reminded them was still in effect and in need of enforcement.
Vice Mayor Alvarado indicated that she was also concerned about the concentration of alcohol sales outlets in such areas of the City but said that the city was unable to control the issue of licenses, since that is handled in Sacramento by the ABC (Alcohol and Beverage Control) Agency.
Mary Contreras and fellow ARAC spokesperson, Sky Anderson, provided photos of various businesses which sold alcohol.
They discovered that, besides bottle shops,7 & 11's and grocery stores, liquor was also sold in a fish market, several bakeries, a gas station and even a hardware store.
At Tuesday's Council hearing, Alvarez reminded Mayor Hammer and Vice Mayor Alvarado that both officials have been outspoken in their support of MADD (Mothers Against Drunk Drivers) and that ARAC's request was an important step towards reducing the abuse of alcohol and the devastating effects of alcohol in the community.
Fellow ARAC member, Sky Anderson, presented the Council with a stack of 1,000 petitions from Eastside residents asking the Council to designate the Mexican Heritage Gardens and Plaza a drug, tobacco and alcohol free zone. Anderson asked that the Council honor the request of these petition and added that, if the Council felt that more petitions were needed, their group could easily get more since there is great interest in reducing the availability of alcohol and tobacco, along with drugs, within the Eastside community.
Alvarez members of El Teatro de los Pobres have long presented plays dramatizing the many ways in which tobacco and alcohol companies market their products in the Latino community.
The City Council was reminded that in their packets from ARAC there was pertinent information and research data regarding the effects of alcohol in the United States.
The Marin Institute for the Prevention of Alcohol and Other Drug Problems reports, among a long list of other facts, that many of the "more than 18 million adults 18 and older who drink have significant alcohol related problems affecting their health, work, family life, or social adjustment."
The Centers for Disease Control indicate that "approximately 105,000 deaths each year are directly attributable to alcohol."
Manuel Alvarado, an ARAC member and Eastside resident read a letter written to Mayor Hammer from José and María Pérez; who lost their two daughters, Marisol and Rocío, because of a drunk driver. They are now heavily involved with MADD in speaking out to groups at schools, churches, the county jail, and DUI (Driving Under the Influence) classes. They wrote the letter because they had a prior commitment last Tuesday and could not be present at the Council hearing. Since their daughter's death, the Perez have devoted themselves to helping to raise awareness of the problems resulting from drinking and driving to the Spanish speaking community.
Studies indicate that there has been an increase in alcohol consumption among young people. According to the Marin Institute "Alcohol is the illegal drug of choice of youth in the US." They explain that, nationwide, 35% of high school seniors and 43% of college students report heavy drinking (drinking five or more drinks per occasion).
According to the California Latino Alcohol and Other Drug Coalition, 56% of the youth under age 20 that were arrested for driving under the influence in California in 1991, were Latinos. That is an alarming number since Latinos in California account for 35% of the population.
They also report that, in the downtown area of San Jose where Latinos comprise 57% of the residents, there are 4.56 alcohol outlets per l,000 people while in areas of predominately "white" populations there are only.94 alcohol outlets per 1,000 people. See accompanying maps showing liquor outlets in the one mile radius of the corner of Alum Rock and King Road.
Following impassioned pleas from other Eastside residents, Roberto Castro, Henry Dominguez, Pedro Perales, Manuel Alvarado and others, Councilman David Pandori asked that Mayor Hammer commit to a City-wide study of the issue. Councilman Jim Beall, in reaction to a comment by the Mayor that alcohol consumption was not a problem on City owned property
reminded the Council that there have indeed been problems. He cited an excessive amount of drinking that had begun to characterize the "Music in The Park" events where the police have had "their hands full" attempting to control drunkenness among event participants this past summer.
Councilwoman Alvarado admonished the ARAC group that their concerns should have been presented to the management of the Mexican Heritage Corporation rather than the City Council.
In reaction to claims that alcohol was not a problem at community/city activities, a voice in the audience mentioned the G.I. Forum and the Fiestas Patrias.
There has been a growing awareness of the dependence upon liquor and tobacco promotional support of some community celebrations. As a consequence, there is now growing opposition to that support within many community groups, including the local G.I. Forum. Some members of the G.I. Forum have taken the position that liquor and tobacco industry support for Las Fiestas Patrias (Cinco de Mayo) is not in the best interests of the Hispanic Community.
Mayor Hammer said that she would refer Pandori's request to the appropriate Council committee. She said that there are problems with the separation in state versus local control of liquor sales permits. To this, Pandori responded that there are, in San Jose "nuisance laws" that have allowed the City to restrict and even close down liquor outlets that adversely impact the quality of life in adjoining neighborhoods.
For more information on ARAC, Alvarez can be contacted at (408) 254-3878. For more information on City laws regarding the sale of alcohol and tobacco, contact your City Council representative. © La Oferta Newspaper.