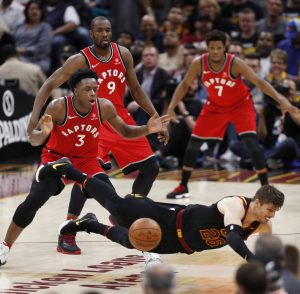 Cleveland, USA, May 5 (EFE).- The forward-Guard LeBron James led the Cleveland Cavaliers to a 105-103 win over the Toronto Raptors in Game 3 on Saturday, taking a 3-0 lead in the best-of-seven Western Conference semifinals series.

Now the odds are stacked against Toronto in Game 4 on Monday when they again face each other at Quicken Loans Arena.
The Raptors might again suffer in the playoffs competition at the hands of the Cavaliers, who can sweep them for the third consecutive year.

The statistics do not speak in the Raptors' favor as of the 129 teams in NBA history to fall behind 3-0, none have come back to win.

Although at the start of the playoff competition, the Raptors were seen as favorites to fight for the title after having concluded the regular season with the best record of the Eastern Conference and field advantage.

James played the key role in the Cavaliers' victory over the Raptors in Game 1, scored 43 in Game 2, and led his team to win in the third.

He scored 38 points after converting 14 of 26 field throws, including a triple of four attempted, gave seven assists, recovered two balls and blocked one.

The Cavaliers' star (227) surpassed France's point-guard Tony Parker (226) in the fifth place by more matches played in the playoffs.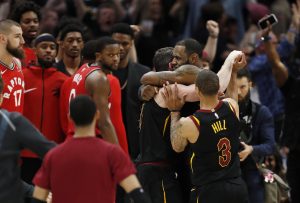 Derek Fisher with 259 is the all-time leader, followed by Tim Duncan (251), Robert Horry (244) and Kareem Abdul-Jabbar (237).

After the Raptors tied it with a 3 pointer by English rookie, Ogugua "OG" Anunoby, who played in the playoffs for the first time in place of Spain's Congolese, Serge Ibaka, James took the inbounds pass, dribbled the length of the floor and rose off the floor on the left side of the basket and made the decisive throw.

While his teammates went to hug him, James, the Cavaliers' star climbed to the scoring table to celebrate another miraculous triumph, as done in the playoffs with the Indiana Pacers.

"My responsibility is to finish the games and that is what has happened in the competition," James stressed, adding "now we're closer to the finals of the East Conference, but we still have one more win to go."

They cannot overcome the "James" phenomenon in the playoffs and have a losing mark of 2-11 in games they have played with the Cavaliers' star.

The defeat has again seen fingers pointed at the Raptors' coach, Dwane Casey, as to how he made the roster, however, he denied that his team gets blocked when it faces James and cannot overcome his presence in the field.

"We're not facing the Michael Jordan phenomenon, It's just that the team couldn't play well and we lost," Casey said.