Washington, May 6 (EFE).- Rudy Giuliani, the newest member of President Donald Trump's legal team, said Sunday that the mogul would not have to comply with a subpoena to testify in the investigation into Russian interference in the 2016 election headed by Special Counsel Robert Mueller.

The former New York mayor said on ABC's "This Week" that Trump "can assert the same privileges other presidents have," namely to refuse to comply with a subpoena.

For months, speculation has been rife about the possibility that Mueller might issue a subpoena for Trump to testify in the Russia probe, although the billionaire and his legal team have been reticent to do so.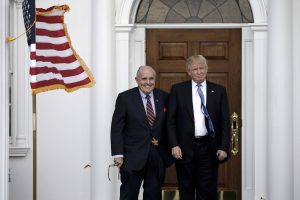 Giuliani, who was hired recently by Trump to help deal with the Russia probe, said that he would prefer for the president to receive the "Hillary Clinton treatment," meaning that he would respond to questions prepared and submitted to him in advance, albeit not under oath.

Trump told reporters on Friday that "I would love to speak. I would love to. Nobody wants to speak more than me," provided that he is "treated fairly," although on other occasions he has called Mueller's investigation a "witch hunt."

Nevertheless, Giuliani said Sunday that he was uncertain about any such interview, adding that he felt Mueller was trying to set a "trap" for the president.

The New York Times last week published a non-verbatim list of 49 questions that Mueller supposedly wants to ask Trump, the issues covered in the list ranging from Trump's decision to fire former National Security Adviser Michael Flynn and ex-FBI Director James Comey to his potential knowledge about communications between members of his campaign and Russia to electorally harm his Democratic rival, Hillary Clinton, in the 2016 vote.

Trump's attorneys do not want the president to meet with the special counsel's legal team in person but rather to receive written questions in advance with an eye toward preventing the mogul from making some egregious mistake in his remarks, given his penchant for making – at times – hastily conceived comments.