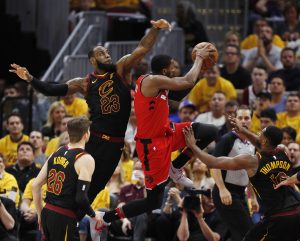 Cleveland, USA, May 7 (EFE).- Star forward LeBron James once again led the Cleveland Cavaliers to a 128-93 triumph against the Toronto Raptors in the fourth round of the Eastern Conference Semi-finals Monday.

This marks a 4-0 sweep for the Cavaliers in the best of seven and has brought them to the finals for a fourth consecutive season.

Though the Raptors achieved their best score during the regular season, they were also eliminated by the Cavaliers for the third consecutive season.

Cleveland has yet to see who will they take on in the finals, where they will play to defend the title against the winner of the knockout between the Boston Celtics and Philadelphia 76ers.

James contributed a double-double of 29 points, 11 assists and eight rebounds although he spent the last eight minutes of the fourth period celebrating what was to be the Cavaliers' 10th straight win against the Raptors in the playoffs.

The Raptors could do very little, in terms of strategy, to slow down the world's best basketball player who once again defeated the Canadian team.

Next to James, Kevin Love also scored 23 points that left him as the second highest scorer, in a list of the five starters who had two-digit numbers.

While shooting guards Kyle Korver and J.R. Smith scored 16 and 15 points respectively, point guard George Hill scored 12 to complete the list of the Cavaliers' best baskets, and who were always in control of the scoreboard and the rhythm of the game.