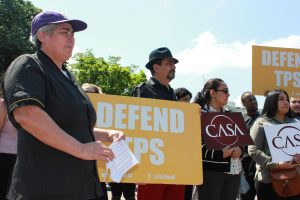 Washington, May 7 (EFE).- A number of Hondurans who have benefitted from Temporary Protected Status, along with activists, on Monday staged a protest in front of the White House to demand the regularization of their immigration status after President Donald Trump decided to end TPS for them.

The Trump administration on Friday withdrew TPS protection from 55,000 Hondurans in the US and gave them until January 2020 to return to their country or find a way to regularize their immigration situation.

"I've been here with my family since 1994. (This decision) affects our families and livelihood a lot, we have to find a way to resolve this problem," Santos Reyes, a cleaning worker who participated in the demonstration, told EFE.

The Department of Homeland Security announced the end of the immigration program that allowed tens of thousands of Hondurans to live and work in the US, although the suspension will not become effective until Jan. 5, 2020, so that an "orderly transition" may be achieved.

Gustavo Torres, the director of CASA Maryland, said that eliminating TPS sends a "message of hate" to the immigrant community from the current administration.

"They're people who've been here for more than 20 years with their families, who have businesses or jobs, who pay their taxes. The president is telling them: You're not welcome," Torres, whose group organized the protest in front of the presidential residence, told EFE.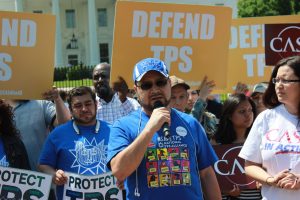 About 50 TPS beneficiaries responded to the call and turned out to demand that their immigration situation be regularized before 2020.

If they must return to Honduras, the activists feel that the lives of the members of many families would be at risk, including children born in the US.

"Honduras is one of the countries with the most violence in the hemisphere, it's perhaps the most violent country in the whole world. There's political, economic and … gang violence," Torres told reporters covering the protest.

Specifically, he mentioned the alleged irregularities in the November 2017 presidential election and the subsequent massive protests, which left at least 18 people dead.

Despite the recent events, the US government has insisted that TPS was granted to Honduras because of the devastation caused in that country by Hurricane Mitch in 1999 and that the effects of the disaster now have been resolved.

Besides Honduras, Trump has also ended TPS benefits for citizens of El Salvador, Nicaragua, Haiti, Sudan and Nepal.