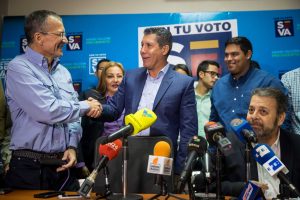 Caracas, May 7 (EFE).- Venezuelan opposition candidate Henri Falcon on Monday called on the MUD opposition coalition and the so-called Broad Front, both of which promote abstention from the upcoming presidential election, to debate whatever proposal they have to resolve the country's crisis without taking part in the election.

"I want the MUD and the Broad Front to show me their plan to see if I withdraw my own. Let's debate it then, so they can tell me what they are going to do on May 21 (the day after the election), because I do have a plan," said the leader of the Progressive Advance (AP) party.

Falcon told a press conference that what the MUD is calling for is "collective suicide."

The MUD, a coalition of most of Venezuela's opposition parties, decided early this year not to take part in the presidential election because they considered it a "fraudulent" process.

The coalition thus became a promoter of abstention, repeatedly calling on people not to vote and on those running against Maduro to withdraw their candidacies, despite that being against the country's regulations, according to the National Electoral Council (CNE).

In Falcon's opinion, those who call for abstention from the election are not only making a call to "the nothing," but are also permitting "a final result that will make the crisis worse, and then what?"

"That's no political solution," he said. "The political solution is this, democracy, the Constitution, the electorate."

"It seems that those who call for abstention will not only make the crisis worse, but will be making it worse in order to see what this box full of surprises will bring – whether it's military intervention, or a coup d'etat, or will end up with other countries deciding for us – good God!" he said.

He recalled that just over a year ago the MUD alliance itself demanded that the presidential election be brought forward, and pushed the CNE to hold a referendum to revoke the term in office of the current president and candidate for reelection, Nicolas Maduro.

The MUD's attitude "looks like a battle of egos, like 'if it's not me, it's nobody,'" Falcon said.