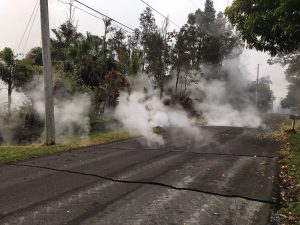 Washington, May 8 (EFE).- The apparent pause in the flow of lava on Monday after the eruption of Hawaii's Kilauea Volcano is probably temporary, since the eruption is predicted to continue over the coming days and two new fissues have opened up, experts at the Hawaiian Volcano Observatory said Tuesday.

Although volcanic activity has slackened in the 12 fissures that have opened up to date, two new ones have developed, the scientific institute said, noting that the situation is dangerous not only because of the risk of fire but also because of the associated gases, including sulfur dioxide, that spew from deep underground.

"The lava flow is unpredictable. It's hard to determine which direction it will go. It starts and stops on a whim. That's the uncertainty that residents are faced with," Hawaii Gov. David Ige told CNN.
Hawaii officials said that the more then 1,700 people who have had to be evacuated since the volano began erupting last
Thursday still don't know when they will be able to return to their homes, and more eruptions could be coming.

In addition, the number of homes destroyed so far has risen to 26, according to the latest tally by local authorities, who also reported that four other buildings had been destroyed.

The volcano began erupting on Thursday after several days of temblors in the area, and since then several earthquakes up to magnitude 6.9 on the Richter scale have been registered.

Video and photographs published on the social networks by local residents show lava and hot gases emerging from several fissures near the volcano.

Kilauea is located in the southeastern part of the island of Hawaii, which is the extreme southeastern island – and the largest one – in the archipelago and is home to some 185,000 people.