Miami, May 10 (EFE).- Carnival Cruise Line inaugurated here Thursday a 35,000-sq-ft Fleet Operations Center equipped with the latest technologies to supervise and provide support to its 26 ships.

Carnival expects the Miami FOC, which reinforces its other operation centers in Hamburg, Germany, and Seattle, Washington, to help provide greater security and more efficient operations.

Carnival Cruise Line President Christine Duffy formally inaugurated the FOC by opening virtual curtains covering a 74-foot video wall comprising 57 LED screens.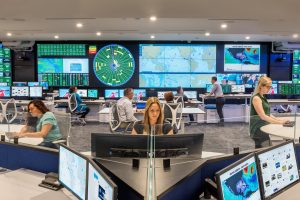 All of the relevant information regarding the 26 Carnival ships operating in the Bahamas, the Caribbean, Alaska, Hawaii, Canada, New England, Bermuda, Europe, Cuba, Australia, New Zealand and the Pacific Islands will be shown on the video wall.

Duffy told EFE that although the technology is "impressive," the greatest opportunity created by the FOC is linked to the "communication and collaboration" made possible by the fact that the company's different teams are gathered in one place.

Those teams will now be able to participate together in daily briefings to know everything there is to know about the fleet.

Less than a month before the Atlantic hurricane season begins, the video wall reproduced on Thursday every Carnival ship's situation during the lifespan of Hurricane Irma from Aug. 30 to Sept. 13, 2017, a Category 5 monster that affected many Caribbean nations.

The Miami FOC, located in a building designed to withstand hurricanes, will remain open around the clock.
Carnival's COO Gustavo Antorcha told EFE that each ship in the fleet is autonomous, since they are all equipped with the latest technology and have their own technical support staff.

The FOC "is not a control center but rather a support center," he said, adding that every ship's information will be uploaded online to "provide a quicker response in case of distress."