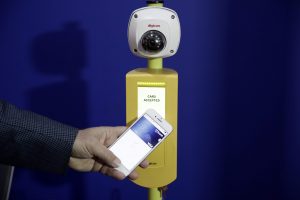 San Jose, May 10 (EFE).– Contactless payment is a new technology aimed at reducing the use of cash through quick, efficient, easy and safe transactions in Latin America, a study published in Costa Rica on Thursday revealed.

The study, conducted by Americas Market Intelligence (AMI) for Visa Inc., showed that the market is evolving toward a contactless card system, which makes it crucial for the region to move toward this payment method.

Visa's vice president of Consumer Products for Latin America and the Caribbean, Ricardo Tafur told EFE in an interview here that contactless purchases are done with a card consumers usually already have, with the added benefit that they do not need to swipe it or provide a signature or PIN number.

"It is truly the basis for the adoption of new technology," Tafur said. "We can use our cards at the points of sales we are already used to, displacing cash and using a method that is much more efficient, safe and fast."

The method – which would be used for low-value purchases, such as public transportation fares – would establish a cap on transactions of between $25 and $50, depending on the individual countries' regulations.

"It is as safe as the technology we are already accustumed to using," Tafur said.

Data from the AMI study shows that, while contactless payment is still in its initial stages in Latin America – where less than 1 percent of purchases are done using this method – the system is used in nearly 90 percent of transactions in Australia.

Figures for New Zealand put the usage of this method at 70 percent, while 60 percent of purchases done in Singapore employ this system.

The report, presented by Lindsay Lehr, AMI senior director and co-leader of Payments Practice, also showed that, while purchases done with smart cards tend to be very slow and cellular phones are still not accessible to everyone, contactless card payments are affordable and the plastic lasts longer.