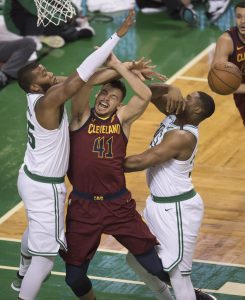 Boston, May 13 (EFE).- Guard Jaylen Brown contributed 23 points and eight rebounds to lead the Boston Celtics' attack on the Cleveland Cavaliers, a contest in which the home squad dominated with a result of 108-83 in the first game of the best-of-seven NBA Eastern Conference playoffs on Sunday.

The win gave the Celtics a 1-0 lead in the series, with the second game to be played on Tuesday in the same venue: Boston's TD Garden.

Along with Brown, Marcus Morris stepped up with a double-double, sinking 21 points and grabbing 10 rebounds, while Dominican center Al Horford tossed in another 20 points and swept up six rebounds.

Horford proved to be Boston's decisive player in the first period, racking up a score differential that the Cavs could not overcome.

He sank his first seven shots, ending the game shooting 80 percent, and hit on two of the four triples he tried and two of three shots from the foul line in his 27 minutes of play.

Meanwhile, rookie Jayson Tatum had 16 points, making him the fourth Boston player in double digits, not to mention his three assists before a standing-room-only TD Garden.

Terry Rozier was not big on scoring, with eight points, but he did contribute eight assists and grabbed six defensive rebounds.

On this outing, the Cavs' iconic LeBron James was not as much of a contributor as normal, notching 15 points – albeit his team's second-highest scorer – but he sank only five of his 16 shots from the field and missed all five of his tries from outside the perimeter.

Playing 36 minutes, James did hit on five of his six chances from the free throw line, captured seven defensive rebounds, provided nine assists and two blocks, but he lost the ball seven times to the Celtics and proved to be one of the weak points in the Cavs' effort.

Kevin Love was top scorer for Cleveland with 17 points, but he hit only five of 14 shots from the field and just one of his four 3-point attempts. He did sink all six of his free throws.

Reserve guard Rodney Hood and forward Jordan Claskson contributed 11 and 10 points, respectively, rounding out the list of four Cavs players with double digits on the scoreboard.

The Celtics had the game sewn up practically from git-go, out in front by 36-18 at the end of the first quarter and going into the halftime break ahead by 61-35.