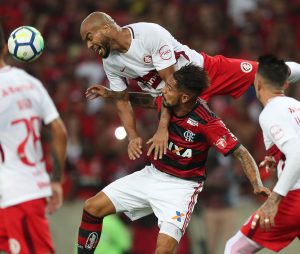 Rio de Janeiro, Brasil, May 13 (EFE).- Flamengo striker from Peru Paolo Guerrero said Sunday he is confident he will receive a positive response from the Court of Arbitration for Sport (CAS), on his request that the six-month doping ban imposed on him by the Federation Internationale de Football Association (FIFA) be lifted.

"I am very confident because I am innocent and I did not do anything," Guerrero said after the away match in which Flamengo lost 3-2 to Chapecoense on the fifth day of the Brazilian soccer Championship.

Guerrero's participation in the 2018 FIFA World Cup in Russia depends on the decision of the CAS, which is due to be announced on May 16.

"I am very confident because I believe in justice," added the Peruvian striker, who made a comeback to the field on May 6 after completing a six-month doping ban imposed by FIFA.

However, after the suspension ended on May 3, FIFA and the World Anti-Doping Agency (WADA) called on the CAS to extend the ban on the captain and top scorer of the Peruvian national team for one more year.

Guerrero was tested positive on Oct. 5, 2017 for benzoylecgonine, the main metabolite of cocaine and coca leaf, after playing a World Cup qualifier against Argentina in Buenos Aires.

After the six-month suspension the Peruvian striker returned to the soccer field last week and scored a goal in the Sunday match against Chapecoense.

Peru are in Group C of the Russia World Cup, together with France Denmark and Australia.