New York, May 15 (EFE).- "Vue de l'asile et de la Chapelle de Saint-Rémy," Vincent van Gogh's only painting that captures the views outside the French asylum in which he voluntarily stayed, sold for $39.7 million at Christie's auction house in New York on Tuesday.

The auction included works by Kazimir Malevich, Constantin Brancusi, Joan Miro, Pablo Picasso, Fernand Leger and Alberto Giacometti. The 40 lots were sold for a total of almost $416 million, according to Christie's.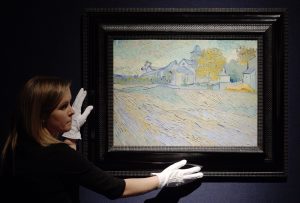 In 1889, just one year before his death, Van Gogh painted the "Vue de l'asile" depicting the scenery he saw from the hospital in Saint-Remy where he voluntarily stayed to treat psychological problems that had led him to cut off his own ear a year earlier.

Van Gogh used to paint bucolic views he saw inside of the hospital but the "Vue de l'asile" is the only painting among the 150 he produced during his stay that shows the outside.

The painting was on display in Elizabeth Taylor's living room from 1963 until her death in 2011, after which it was auctioned for $16 million.

The artwork that fetched the highest price in the auction, however, was "Suprematist Composition" (1916) by Russian avant-garde painter Malevich, which sold for $85.8 million – a record for the artist.

It is one of the most iconic paintings by Malevich, who revolutionized the world of art by exhibiting his abstract collections in 1915, in which he used geometric figures in illustrating his own universe instead of recreating reality.

"La jeune fille sophistiquée" (1932), a unique bronze sculpture by the Romanian Constantin Brancusi which reproduces a portrait of writer Nancy Cunard, sold for $71 million.

Cunard was also an heiress known for her fight against racism and facism.

This was the first time the sculpture had been put on sale since its previous owners, the Stafford family, bought it direct from the artist.

"Femme entendant de la musique" by Miro fetched $21.7 million, Leger's "Les trois femmes au bouquet" reached nearly $13 million, while "La Clariére" by Giacometti went for $15.8 million.