December 21, 1994
By Yolanda Reynolds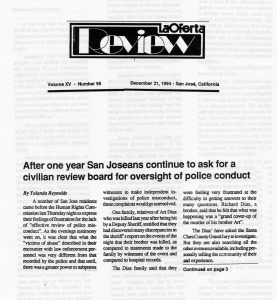 A number of San Jose residents came before the Human Rights Commission last Thursday night to express their feelings of frustration for the lack of "effective review of police misconduct." As the evenings testimony went on, it was clear that what the "victims of abuse" described in their encounter with law enforcement personnel was very different from that recorded by the police and that until, there was a greater power to subpoena witnesses to make independent investigations of police misconduct, these complaints would go unresolved.
One family, relatives of Art Diaz who was killed last year after being hit by a Deputy Sheriff, testified that they had discovered many discrepancies in the sheriff's report on the events of the night that their brother was killed, as compared to statements made to the family by witnesses of the event and compared to hospital records.
The Diaz family said that they were feeling very frustrated at the difficulty in getting answers to their many questions. Richard Diaz, a brother said that he felt that what was happening was a "grand cover-up of the murder of his brother Art."
The Diaz have asked the Santa Clara County Grand Jury to investigate. But they are also searching all the other avenues available, including personally telling the community of their sad experience.
It was clear that the complaints involved not only the San Jose Police Department, but other law enforcement personnel as in the case of the Diaz family.
Altogether there were over 50 persons at the hearing not including the Human Rights Commission membership. One man, Jose Madeiros, a city employee and an active member of St. John Vianney's Catholic Church as well an officer in MAPA (Mexican American Political Association), spoke of an experience where he was subjected to gruff and arbitrary treatment by a SJPD officer.
He says that he was forced to obey at the risk of arrest even though his only offense was his wish to use a pay phone at a neighborhood shopping center.
Another man, Jorge Lopez, described how he had been beaten by some guards at a dance for a reason unknown to him. He said that he had been relieved to see several police officers approach him, but was instead surprised to find that they intended to arrest him, but not before they challenged his citizenship.
This occurred even though San Jose Chief Cobarruviaz had said that the city officers would not function as INS officers. Lopez says that he is a legal resident of the state. He suffered a severe beating at the hands of the security guards, and even though he should have had medical care for a severely injured eye, he was denied medical care. The police report, Lopez says, states that he did not get care because he had not requested any attention. Lopez says that is not true and that he had asked for medical attention. Lopez has been very active in the union organizing of janitors with SEIU 1877, and is also involved in the Campaign for Justice.
The majority of those testifying at the Human Rights hearing were minorities or less affluent. One person, Robert Johnson an African American senior student whose hometown is Los Angeles, said police behavior towards minorities, in particular African Americans, "no different" than that from the LA. Police."
L.A. police have ably demonstrated a severe lack of professional conduct as evidenced in the Rodney King episode which recorded the police violence there on videotape.
Johnson described how an upper division African American engineering student had recently been harassed in front of his peers just because "he looked suspicious because of the vintage car he was driving" and the designer pants he was wearing Johnson also pointed out that black students experienced harassment just because of their color.
Some homeless persons and homeless advocates spoke of the disparaging manner in which they were treated. They described the epithets used by some police in addressing them.
Roy Stevens, a well-known homeless and community advocate, after more than a year of asking for an investigation into how he was treated by an officer when he took photos at a crime scene has been unsuccessful. He was advised that since the incident occurred before the police auditor came on board she was precluded from taking any action on his request.
For some, retelling their experience was very painful. It was as if their faith in the system for fairness and justice had been totally destroyed. John Messina, a San Josean, described encountering several policemen who were "mercilessly beating up a Latino male." Messina said that he drove around the block hoping that they would have quit beating him up. Messina said that he wanted to find help for the man but concluded that it would be hopeless, adding "what do you do when it is the police you wish to complain about."
Gayle Tiller, a SJSU attorney, pointed out to the Commission that lack of faith in law enforcement is a serious matter and that the creation of a civilian review board would help restore trust in the community. She said that in conservative San Diego County, the newly created police auditor, after only a year, recommended the establishment of a civilian review board that would have subpoena and independent investigative powers for the police.
They now have a civilian review board in San Diego.
Faith in law enforcement is very important. One woman who testified, spoke of the police asking her daughter to report on gang activity in exchange for a reduced sentence. The mother said that her daughter would never that. The mother expressed total distrust of the police even though the problems in her neighborhood will likely only be corrected only when there is real cooperation and reciprocal trust between the residents of her neighborhood and the police.
Police do try to work on plea bargains in order to understand the inner workings of inaccessible groups suspected of illegal activity. Sometimes they are not even sure a person knows anything or not but it is offered in the hopes of getting information.
Some officer's names came up several times in describing police misconduct. For human rights advocates these few officers are usually the ones who give the entire police department a bad reputation. Such officers harm not only the community but endanger themselves and their colleagues as well since the community retreats into self-protection and silence, thus thwarting any attempts at real "community policing."
The names included minorities as well as "whites" which homeless advocate Sandy Perry says indicates the need for intensive sensitivity training for all officers regardless of race or ethnicity.
Al Trougett of San Jose and a long time human rights advocate pointed out that throughout the world people's human rights were being violated and that in the United States it was Blacks, Latinos and the poor who were targets of such abuses. Trougett called on the City council to acknowledge the need to end such human rights abuses. Trougett pointed to the disproportionate numbers of Latinos and Backs incarcerated in the county jails and the state and national prisons.
The San Jose police auditor, Teresa Guerrero-Daley, has complained that the police take too long to investigate complaints that have been brought to the attention of the police internal affairs unit. Her task, for lack of investigative and subpoena powers, is restricted to simply auditing the police reports. For some critics, this is a waste of time but the greatest discrepancies occur, not in the paper process in the police department, but rather in the police reports compared to eyewitness accounts or even evidence from the scene.
Last Thursday night only four of the commissioners were present to hear testimony from the community.  According to a memo from Martha O'Connell, a member of the Human Rights Commission, and ACLU member John Cox this hearing was very important because they had been informed that the San Jose City Council had intentions of extending for another year the contract of the police auditor, even though there had been no assessment as to whether Guerrero-Daley had been able to overcome the problems envisioned by critics of the limited powers of the police auditor.
The City is expected to act on the renewal of the police auditor's contract January 24 at their afternoon City Council meeting. The Thursday night testimony is now part of the public record and persons wishing to listen to the testimony can do so at the City Clerk's office on the first floor of City Hall.
The public at the Commission hearing was skeptical of the impact that their testimony would have in effecting change. The commissioners were equally concerned because, of the 14 commissioners, ten were missing.
Though these was not a quorum of the Commission, the citizen testimony was recorded and promises were made that every effort would be made to ask all of the Commissioners to listen to their testimony in order for the absent Commissioners to "intelligently" vote on whether to recommend continuing the police auditor positions or to instead recommend that the City Council establish a police review board.
There was some discussion and questions as to how many of the Commissioners had been notified of the Thursday night hearing and who had notified them. According to reports, one Commissioner had been told by the Council liaison, Charlotte Powers, that the "City Council was not in agreement that the Human Rights Commission should evaluate the Independent Auditor."
The Human Rights Commission has limited powers but even though they are appointed by the City Council and function at their pleasure they have in times past defied the Council and conducted hearing on community issues and taken a position in spite of such opposition.
The Commission membership that was present expressed hopes that the City Council would delay a decision until after the Commission would make its recommendation at their Jan meeting of the 26th.
Attempts to reach the Police Officer's Association before press time were unsuccessful. The Union is very powerful and cooperation from them in this matter would greatly advance the trust of the community towards law enforcement. For trust to exist it is essential that such a review board be completely independent of both community prejudice or of a law enforcement bias. Unfortunately, across the nation reports of rogue police officers surface too frequently making the very difficult work of law enforcement even more hazardous.
For more information regarding police misconduct contact Martha O'Connell at (408) 924-1706 or John Cox at (408) 293-2584. To contact City Councilwoman Charlotte Powers at City Hall telephone her at (408) 277-4282. © La Oferta Newspaper.