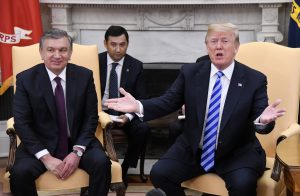 Washington, May 16 (EFE).- President Donald Trump said Wednesday that North Korea has not formally informed the US government about the possibility that it might cancel his summit with Kim Jong-un scheduled for June 12 in Singapore and confirmed that he intends to insist that Pyongyang denuclearize if the meeting occurs.

"We haven't been notified at all. We'll have to see," Trump told reporters at a White House meeting with Uzbek President Shavkat Mirziyoyev.

When asked about whether he would insist that North Korea give up its nuclear weapons during his meeting with Kim, Trump responded, "Yes."

A few hours earlier, White House Press Secretary Sarah Huckabee Sanders had told Fox News that Trump will "be there, and he'll be ready," adding that "We're ready to meet, and if it happens that's great, but if it doesn't we'll see what happens. If it doesn't we'll continue the maximum pressure campaign that has been ongoing."

She added that Pyongyang's threat to cancel the meeting is not an unusual tactic during highly-charged discussions between adversaries where much is at stake.

North Korea on Tuesday suspended a high-level meeting with South Korea and has threatened to cancel the summit with Trump because of the upcoming Washington-Seoul military exercises, according to South Korea's Yonhap news agency, citing Pyongyang's official KCNA news agency.

Pyongyang has also expressed irritation with remarks by Trump's new national security adviser, John Bolton, who last month said in a CBS News interview that a denuclearization deal with North Korea could be similar to one in 2003-2004 involving Muammar Gadhafi's Libya.

In 2003, Tripoli and Washington signed an agreement whereby the Libyan regime quickly eliminated its weapons of mass destruction program and turned over its arsenal of such weapons in exchange for economic relief.

"If the U.S. is trying to drive us into a corner to force our unilateral nuclear abandonment, we will no longer be interested in such dialogue and cannot but reconsider our proceeding to the DPRK-U.S. summit," Kim Kye Gwan, North Korea's deputy foreign minister, said in a statement published on Wednesday by KCNA.

According to Yonhap, citing KCNA, Pyongyang considers the annual "Max Thunder" military drills carried out by the US and South Korea to be a rehearsal for an invasion and an "intentional military provocation."

The Trump-Kim summit would be the first meeting between the leaders of the US and North Korea for the nearly 70 years since the start of the 1950-1953 Korean War and after more than 25 years of failed negotiations.

The summit would mean a complete change of direction in the relationship between Washington and Pyongyang since Trump was sworn in, as tensions between the two countries escalated last year to the point that the US president threatened to "totally destroy" North Korea in his first address to the United Nations general assembly.