Isla La Amargura, Colombia, May 18 (EFE).- The small town of Isla La Amargura, home to 753 farmers and Zenu indigenous people, risks being wiped out as water has started overflowing from the under-construction Ituango hydroelectric dam on the Cauca river, in northwest Colombia.

The townspeople, accustomed to living in harmony with the Cauca river, now risk losing everything – their homes, chickens, pigs, dogs and crops – if the dam were to break, which could provoke one of the greatest disasters in Colombia's history.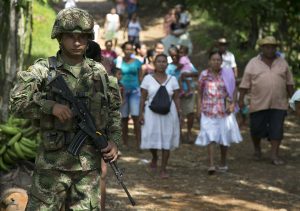 Apolinar Oviedo, town councilman of Caceres, in the province of Antioquia, where Isla La Amargura is also located, said "Isla is the town that is most at risk in the whole region because it is on an island in the middle of the Cauca river."

The Cauca is Colombia's second most important river, passing through more than 180 municipalities in the provinces of Cauca, Valle del Cauca, Risaralda, Caldas, Antioquia, Sucre and Bolivar, before joining the Magdalena, the country's longest river.

The evacuation of the residents of Isla La Amargura started on May 7, after a landslide clogged up a tunnel rerouting the Cauca river's flow.

This caused the dam's water level to increase, which in turn led engineers to decide to let the water flow through the yet-unfinished powerhouse.

The start of the rainy season, however, has caused the dam's water level to continue to rise.
At least six municipalities in Antioquia risk being flooded, which is why thousands of people from the towns of Puerto Valdivia, Taraza, Caceres and Caucasia have also been evacuated.

Residents of Isla La Amargura were evacuated to the town of Guarumo, where local authorities set up two shelters.

"I left at five in the afternoon with my family, with the help of Civil Defense and the Army. I had to leave my chickens and dogs behind because I couldn't take them with me," Francisco Castillo Perez, a Zenu indigenous man, told EFE.

The townspeople of Isla La Amargura also had to abandon their yucca, banana, corn and rice crops.

Preliminary estimates show that 700 hectares (283 acres) could be affected.

"We evacuated the community because there is a real risk of a dam failure. In the shelters there are many children, a pregnant girl and disabled people," Alex Cuadrado, a member of the Civil Defense, said.

The Cauca river is now nearly four meters deep (13 ft.) near Isla la Amargura, a level that the townspeople hope will not rise any further, as they could lose everything they have worked for.