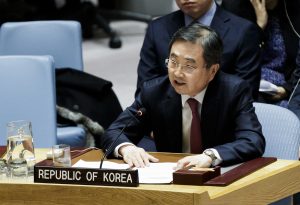 Buenos Aires, May 21 (EFE).- Officials from Washington and Seoul on Sunday agreed in Buenos Aires that the upcoming meeting between the leaders of the US and North Korea will be "an historic opportunity."

The United States' Deputy Secretary of State John Sullivan and South Korea's Vice-Minister of Foreign Affairs Cho Hyun met in the Argentine capital where the G20 Foreign Ministers' Meeting will be held on Monday.

The meeting came a few hours after South Korean President Moon Jae-in and US President Donald Trump agreed on the phone to continue working for the summit between Washington and Pyongyang scheduled for Jun. 12 in Singapore.

Sullivan and Cho said the meeting between Trump and North Korean leader Kim Jong-un is "an historic opportunity and evidence that the global maximum pressure campaign is working and must remain in effect," according to US State Department spokesperson Heather Nauert.

The Pyongyang regime earlier this week threatened to cancel the planned meeting due to Washington's demands for the denuclearization of the Korean Peninsula.

Moon is scheduled to travel this week to Washington to meet with Trump ahead of the summit.
Sullivan and Cho also said at their meeting in Buenos Aires that the two countries' bilateral ties are "stronger than ever" and pledged to maintain "close coordination during this crucial time," the State Department spokesperson said.

The diplomats also discussed mutual priorities for the G20, bilateral economic cooperation and trilateral initiatives with Japan.