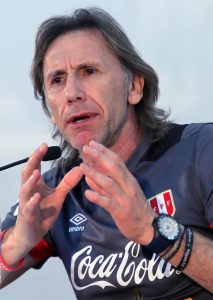 Lima, May 21 (EFE).- The captains of the Australian, Danish and French national teams, Peru's rivals in the group stage of the 2018 World Cup, on Monday joined the international trade union of professional footballers (FIFPro) in calling on FIFA to allow Peruvian striker Paolo Guerrero to play in the upcoming tournament.

In a letter to FIFA, Australia's Mile Jedinak, Denmark's Simon Kjaer and Hugo Lloris of France, captains of their respective national teams, requested that their Peruvian counterpart be temporarily suspended from the doping ban that leaves him out of the World Cup.

The letter was sent a day before Guerrero meets with FIFA president Gianni Infantino in Switzerland to discuss the possibility of obtaining a special and unprecedented extraordinary permit to lead his team at the World Cup, Peru's first in 36 years.

In the meeting, Guerrero will be accompanied by Edwin Oviedo, president of the Peruvian Football Federation (FPF), which will be responsible for organizing the U-17 World Cup next year.

The Court of Arbitration for Sport (CAS) disqualified Guerrero from the 2018 World Cup for 14 months in a ruling issued on May 3 after he was tested positive for a prohibited doping substance after playing a World Cup qualifier on Oct 5, 2017 against Argentina.

The Peruvian captain, whose contract with Brazil's Flamengo was suspended as a result of this revelation, has already completed the six-month sanction initially imposed by FIFA.

Guerrero's arguments to delay the remaining punishments of the ban is that he accidentally and involuntarily consumed a tea contaminated with coca, a substance which ultimately did not give him any advantage nor improve his performance in the game.

Peru remains in suspense as Guerrero, captain and record scorer of the Peruvian national team, fights for his bid to play at the World Cup. Thousands of his fans even held a demonstration on May 20 at the National Stadium in Lima to show their support.

The Peruvian team will debut in the World Cup against Denmark on June 16 in Saransk, followed by a match with France on June 21 in Yekaterinburg, and conclude its play in Group C against Australia on June 26 in Sochi.