Washington, May 21 (EFE).- President Donald Trump on Monday took part in the swearing-in ceremony for Gina Haspel as CIA director did not skimp on praising a career officer who he said, after 33 years with the agency, "breathes" the values of an institution that had never been led by a woman.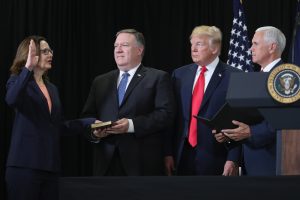 At the swearing-in ceremony at CIA headquarters in Langley, Virginia, Trump said Haspel is "someone who has served this agency with extraordinary skill and devotion," adding that "Our enemies will take note. Gina is tough, she is strong, and when it comes to defending America, Gina will never ever back down."

Trump thus has been able to overcome the challenge to Haspel's nomination posed by the fact that her involvement in the CIA's harsh interrogation – or torture – program might make her unable to garner sufficient support among senators to ensure her approval.

Haspel's swearing in comes four days after the Senate approved her nomination in a 54-45 vote, thus bringing to a close a weeks-long confirmation battle.

The president did not allude to her past CIA activities in his remarks and emphasized that during the three years after the Sept. 11, 2001, terrorist attacks Haspel tirelessly pursued terrorists.

In her acceptance remarks, the 61-year-old Haspel said that the challenge before us is to always be better and not to rest on our laurels, to learn from the past but not to live in the past.

"I want each of you to know that I took on the position of director because I want to represent you, as well as lead you," she told CIA employees at the ceremony. "I want the current CIA leadership team to be role models and mentors for our next generation of officers."